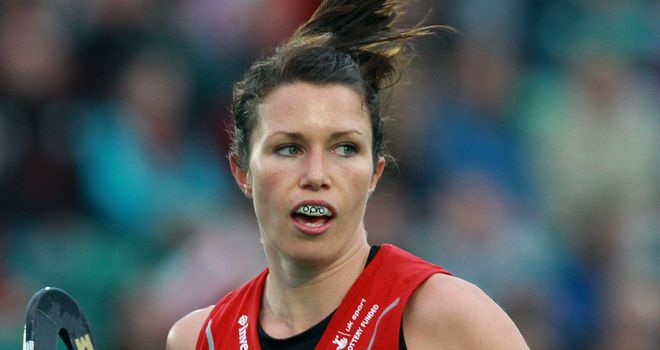 Anne Panter: Wants a return to form
Great Britain midfielder Anne Panter insists the squad are determined to return to their best form in the most important game of their lives.
Britain are aiming to become the first GB women's side to reach an Olympic final when they face world champions Argentina in the last four on Wednesday.
But the challenge ahead of them is considerable as the South Americans are ranked second in the world - two places ahead of Danny Kerry's side - and beat GB 1-0 in the final of the Champions Trophy in February, admittedly on home soil.
Having lost their last two pool matches Britain have not had a positive result since last Thursday, and after criticism from Kerry following Monday's defeat to Holland Panter said they would not allow standards to drop again.
"There was some good stuff in there and there was some stuff we know we need to do better," she said.
"At this level the small details really tell and can change the momentum of a game.
"We had patches of really good play and had Holland under pressure at times but those slightly small errors allowed them to get a flow to their game and put us under pressure.
Good enough
"Those are the little moments that we need to put right.
"We absolutely deserve to be in the semi-finals, We are one of the top four sides here and are good enough to win gold and that is now our next aim.
"We have learned a lot from the Holland defeat and we will come out and play a lot better than that."
The women half-stumbled into the semi-final as Japan's win over China meant that instead of having to get something out of their match with Holland their place was already secure.
But Panter rejected suggestions they had been fortunate having lost their last two pool matches.
"I don't think luck was anything to do with it, I think we were outstanding in our first three games," she added.
"It doesn't matter whether you get your points at the start or the end, we did the job."