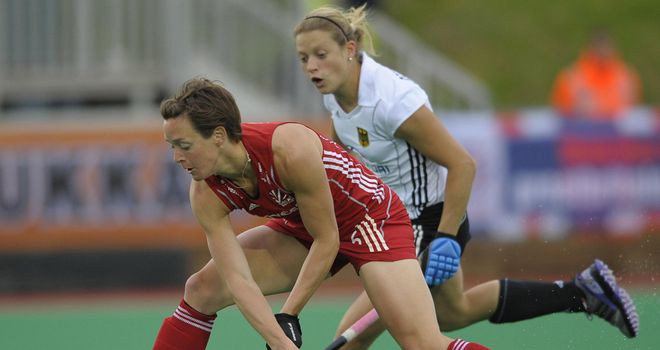 Hannah Macleod: found the net for Great Britain with 11 minutes to play
Great Britain's women missed out on a place in the London Cup semi-finals after suffering a 2-1 defeat to Germany.
Team GB needed to win by two goals to make the last four but found themselves in trouble when they fell 2-0 behind before half-time following goals from Hannah Kruger and Janine Beermann.
Hannah Macleod did pull one back 11 minutes from the end but there was not enough time remaining to get the goals the home team required.
The loss means the hosts will now meet Ireland, who went down to a 5-1 defeat to Holland, on Sunday morning in the fifth-place play-off.
Kelly Jonker scored a hat-trick to help the Dutch reach the last four, where they will face South Africa. The other semi-final sees Germany go up against Australia.