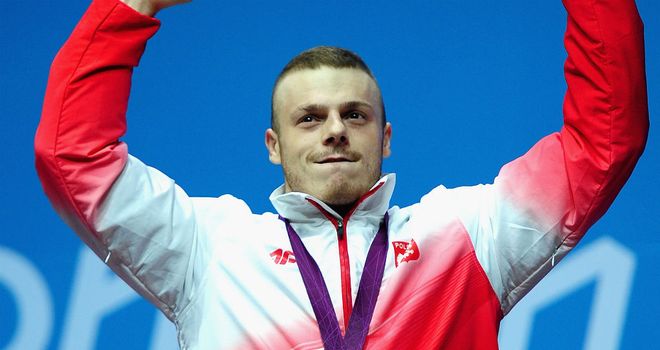 Adrian Edward Zielinski: won by virtue of bodyweight after finishing tied with Apti Aukhadov
Poland's Adrian Edward Zielinski emerged triumphant by virtue of just 130 grams in bodyweight to claim Olympic gold after several favourites fell by the wayside in the men's 85kg category.
The 2010 world champion was level with Russia's 19-year-old lifter Apti Aukhadov on a total of 385kg after a thrilling competition - but with ties decided by the pre-weigh-in, it was Zielinski who proved marginally lighter on the scales.
Current world champion Kianoush Rostami, from Iran, had to settle for bronze after failing with his final lift of 214kg, which would have tied all three men on a 385kg total.
More than half a dozen lifters went into the event with a real chance of victory but that leading pack was soon cut by three.
Beijing silver medallist and world and Olympic record holder Andrei Rybakou, from Belarus, failed all three snatch attempts having been hindered by what appeared to be a right leg injury, as did Iran's Asian champion Sourab Moradi and France's Benjamin Didier Hennequin.
Lu Yong took a slender lead into the interval having lifted a modest 178kg in the snatch - 3kg ahead of Aukhadov, four clear of Zielinski and seven from Rostami.
Failures
But China's reigning gold medallist - the only survivor from the nation's eight winners four years ago - floundered in the clean and jerk and he too was also eliminated after failing to get close with any of his attempts to lift 205kg.
That left just Aukhadov, Zielinski and Rostami. And it was Zielinski who took his place on the top spot of the podium after lifting 211kg compared to Aukhadov (210kg) and Rostami (209kg).
Elsewhere in the weightlifting, Svetlana Podobedova of Kazakhstan produced a dramatic final lift to claim gold in the women's 75kg event.
Podobedova, who used to compete for Russia until a bitter split in 2006, denied her former compatriot Natalya Zabolotnaya of the title - triumphing on merely bodyweight alone after the pair tied with a total of 291kg to smash the Olympic record.
The start of the contest was equally as dramatic as reigning world champion Nadezda Evstyukhina of Russia sensationally bombed out having failed with all three snatch attempts.
The bronze medal went to Belarus' Iryna Kulesha, who was well behind the leading duo after lifting a combined total of 269kg.
Stand in
Zabolotnaya almost completed a fairytale victory herself having only received her Games call-up last week after Oksana Slivenko, who was due to compete in the women's 69kg, was forced to withdraw due to an injury sustained in training.
Earlier in her career Podobedova had claimed that Zabolotnaya and Evstyukhina were given preferential treatment by the Russian weightlifting set-up as they were born in the capital city of Moscow.
In 2006 Podobedova tested positive for banned substances and a three-year absence from the sport followed, with Russia not releasing her to compete for Kazakhstan in Beijing 2008. The switch was finally made in 2009.
Following Evstyukhina's dramatic demise in the snatch, just 1kg separated Podobedova and Zabolotnaya at the midway point, with the latter setting an Olympic record of 131kg in the snatch.
And the clean and jerk best was smashed four times in the final four lifts as Podobedova eventually raised 161kg above her head, tying matters on 291kg - a total record - and sealing victory by the slimmest of margins.