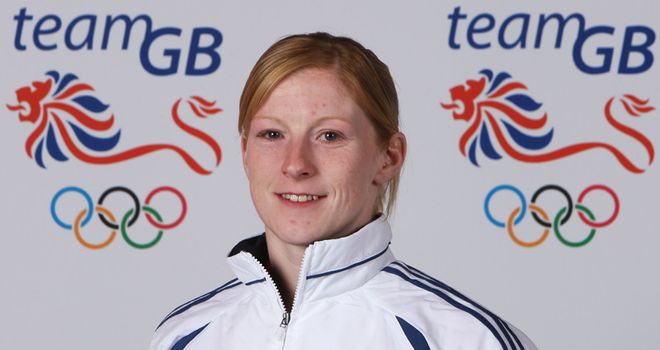 Lynn McCafferty: Carrying the Olympic torch
Great Britain women's handball captain Lynn McCafferty has been chosen as an Olympic torchbearer and hopes to celebrate by beating Poland in their Euro 2012 Group Three qualifier on Thursday.
The 32-year-old has been selected to carry the torch in the Scottish town of Selkirk in June along with team-mate Holly Lam-Moores.
And as the build-up to the London Games picks up speed, the Cumbernauld-born playmaker is relishing the chance to be involved.
"The nomination forms were sent for all associations and my team-mates selected me and Holly," said McCafferty. "So that is really exciting. It will be a really good day where all my friends and family can come and watch.
"I am really honoured that my team-mates have nominated me. It's for them as well, it's just me and Holly that are representing handball."
Competition
Her focus will be on the court on handball this week, though, as GB return to the court for a competitive match for the first time since the London Handball Cup in November, which acted as the official Olympics test event.
During that six-team round-robin tournament at the Copper Box in the Olympic Park, Jesper Holmris' side produced arguably their best ever display by beating African champions Angola.
That success came hot on the heels of a sterling performance against then world champions Russia in an earlier Euro 2012 qualifier.
And while they lost against the European powerhouses, three days after a disappointing defeat against Montenegro, McCafferty believes they can go into clash with Poland at Loughborough University with some confidence, though warns it will be difficult against a physically superior side.
"It is going to be tough for us. We have played them five times and they have won every time," she added.
Tactics
"We hope we are a little bit more tactically aware of them and we have got stronger so we are hoping we can do better against them.
"They pay a lot from nine metres and they will easily shoot over us so we have to make sure we don't give them as much of those chances.
"They are fast and strong in defence so it is going to be tough. But we have been working hard on other aspects of our game to make sure we can compete with them.
"We can take positives from our recent form. We surprised ourselves against Russia that we can do well if we work hard for each other.
"We are not the most confident of teams but we have to remember that we can play handball and it can't be any harder than playing Russia."