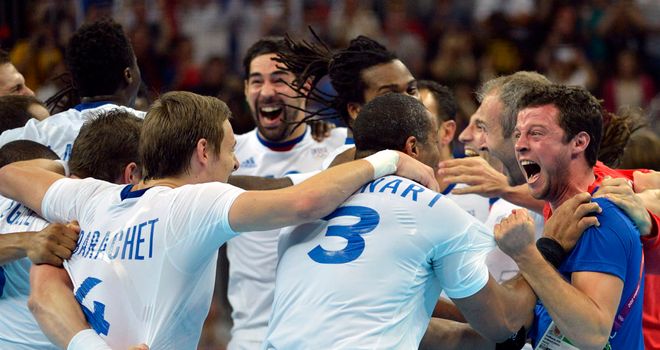 France celebrate retaining their handball title
France became the first country to retain the Olympic men's handball title following a nervy 22-21 victory over Sweden.
Les Bleus, who won gold in Beijing four years ago and are also reigning world champions, survived a late Scandinavian comeback to cement their place as the greatest team of all time.
The win, which was soundtracked by constant raucous offerings of 'Allez Les Bleus' from an army of travelling France supporters, was built on a rigid and powerful defence while Michael Guigou was the hero at the other end, throwing in five goals.
For Sweden, while silver represents a success having no sizeable pre-tournament expectations, it was the fourth time they have taken second spot on the Olympic podium as their wait for an elusive gold medal continues.
It was just not their day today as they found life tough against the French defence, though six goals from Niklas Ekberg took him to 50 for the tournament as they pushed the champions all the way.
France came into the match with added confidence, having beaten Sweden 29-26 in their final Group A preliminary match at the Copper Box on Monday, but nothing could separate the two teams in a cagey opening.
Both sides traded efforts in the first 15 minutes as the scoreboard read 5-5, but after Sweden took the lead at 6-5, France laid down their marker as they scored five of the next six goals to take a 10-7 lead, with Guigo enjoying himself in front of goal with four strikes in an impressively brutal performance.
Tight
Sweden were able to reduce that deficit to 10-8 at half-time, meaning it was all to play for in the second half, but it could have been even better for them had France goalkeeper Thierry Omeyer not been in fine form, with a first-half save ratio of 43%.
France managed to keep Sweden at arm's length after the restart, as their defence was virtually immovable and they took advantage at the other end to maintain a three-goal cushion with 13 minutes of the second period gone.
Staffan Olsson's side rallied, though, and two quickfire goals meant they were trailing by just one with 15 minutes to play as a grandstand finish was on the cards.
But Les Bleus outlined their gold-medal credentials by responding with three of the next four goals to lead 19-16 as they had the top of the podium in sight and, as hard as Sweden tried to get back into the match, they just could not haul their opponents back.
The Scandinavians continued to battle and did manage to reduce their arrears to 22-21 through Kim Ekdahl du Rietz, but with just 15 seconds remaining and France in possession, it was all over.
Claude Onesta's side were uncontrollable in celebration of their achievement, while Sweden, initially crestfallen, left the court with their heads held high.