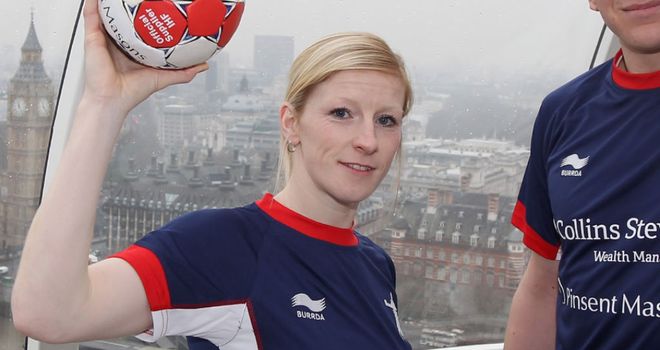 Lynn McCafferty: Celebrating new sponsorship deal
Women's captain Lynn McCafferty talked to Sky Sports about being involved in handball for 20 years and what a home Olympics could do for the sport.
The Scottish star will captain Team GB at London 2012, and she insists they are not too far off challenging the big guns of the sport.
McCafferty says that her side are progressing well, and thinks that they could really challenge some of the bigger names in the sport in London.
With less than six months to go, excitement is building, but she knows the entire team need to keep working hard in order to give the home fans something to shout about in the summer.
A victory over African stars Angola at the recent test event gave GB great cause for hope, and they just need to keep on working now to do even better come London 2012.
Excited
"On the one hand we're all so excited but on the other hand we really need to keep our feet on the ground because we've got a lot of work to do," McCafferty told Sky Sports.
"It's quite scary how close the Olympics are and how fast it has come around, but we're really excited and it's going to be such a buzz. We're working really hard to make sure we don't just turn up and say thank you very much and walk off the court, we really want to show how good we can be and how hard we've worked.
"We were happy with our performance at the test event but not that happy with the results, but that's handball, sometimes your results don't match your performances.
"We're not right at the very top yet but we can do it, we've still got six months to work on it and we're going to get closer to them and challenge the big guns.
"The team we beat, Angola, came in eighth in the World Championships so that was a massive boost for us and we have to keep that in mind as we put the work in as we've still got some way to go to reach the big teams in the world."
McCafferty was in London celebrating a new sponsorship deal for British Handball, and she says improving the sport's popularity and standing in the UK was a big aim for her during and after the Games.
Legacy
"Its great news for us, it's great to get the recognition for handball in Britain and it's fantastic that these companies are coming on board to partner us and get us the exposure that we need.
"I've been playing since I was ten, at Cumbernauld just outside Glasgow, once I started playing properly it was so exciting it was just the sport for me.
"I've been involved with the Olympic programme for five years now and we knew from the start it wasn't just about going to the Olympics, it's also about making sure lots of people know about handball in Britain and get more people and more kids playing in the country.
"I've got a big responsibility back in Scotland to make sure I go home and don't just sit on the chair and think I've just been the Olympics thank you, my job is to then make sure we get as many people playing handball as we can."
And that interest will hopefully spring from a successful Olympic appearance from Great Britain this summer, where the home crowd could help no end.
"It's really important to have a good support behind you on match day," McCaffery added. "We've never really had that but we did play a couple of games at home and every time we felt how important it is to have the crowd behind you.
"We hope to have more games at home as we get closer to make sure we convert that support into positive performances on the court. The men's European Championship has just taken place in Serbia and Serbia took the silver and the crowd was a massive part of their performance and you could really see it when you watched it."
And a message for those interested in taking up the sport: "Handball's a really fast, dynamic and explosive sport, there's a lot of aggression as well, it's really fun to watch and has got a mix of everything, so people really should try to get involved."