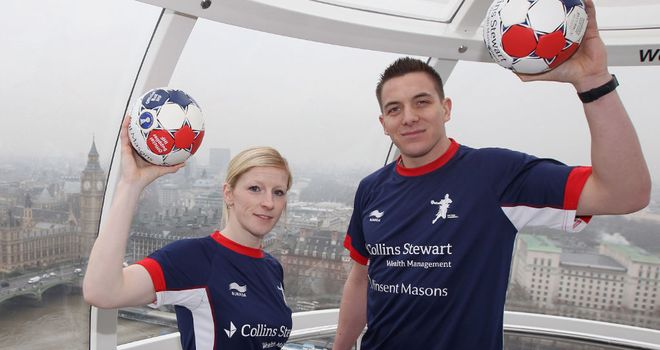 Lynn McCafferty and Bobby White: Celebrating new sponsorship deal
The British Handball Association have announced a major new sponsorship with two companies ahead of the London Olympic Games.
City firm Collins Stewart Wealth Management and international law firm Pinsent Masons have become official partners to British Handball in a deal which lasts throughout 2012.
In addition to the sponsorship, which will see both the Great Britain men's and women's teams carry the company logos on their shirts in all competitions and training matches in the build-up to the Olympics, Collins Stewart Wealth Management have also pledged to donate £10 for every goal scored by both sides between now and the Games to assist the players with funding.
British Handball chief executive Paul Goodwin believes the deal highlights the strength of the organisation's standing ahead of the summer showpiece.
"We are thrilled that the sport has attracted two high profile, award-winning companies as major partners," he said.
"It demonstrates that British Handball is in a strong position in the build-up to the Olympics and we look forward to working closely with Collins Stewart Wealth Management and Pinsent Masons throughout the year to further develop the popularity of the sport into the future."
Collins Stewart Wealth Management chief executive Neil Darke said: "We were attracted to British Handball as an organisation as, despite the sport being relatively unknown, their approach to building the game's familiarity chimed with us."
Pinsent Masons head of sport Trevor Watkins added: "It gives our staff across all of our offices a tremendous opportunity to be part of the GB Handball journey as the teams prepare for what will be one of the greatest sporting events in this country in our lifetime."
Handball is one of the fastest growing sports in the country and it is hoped that a strong showing at the Olympics will help provide a boost in participation.