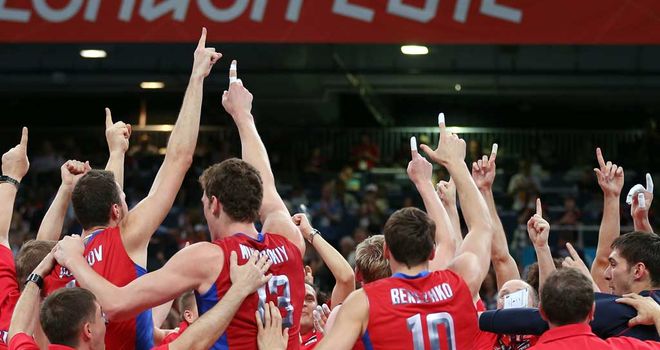 Russia: Celebrating winning Olympic gold
Russia became the first team in the history of men's Olympic volleyball to win the final from two sets down as they stunned Brazil at Earls Court.
For the best part of three sets the Europeans looked a shadow of the side which had demolished Bulgaria in the semis, lumbering around the court as Brazil picked points at will.
So easy was their march to victory that at 2-0 and 22-19 they sent on retiring captain Giba - a virtual spectator in London due to injury - to allow him the privilege of being in court when the medal was won.
That proved to be the worst move they could have made as Russia, clearly furious about such a display of disrespect, embarked on one of the most staggering comebacks the sport has seen to wrap up a fourth Olympic volleyball title.
This was the first not won under the USSR name, though, and could in part be put down to the performance of Dmitriy Muserskiy.
Whether he was offended by the Giba substitution or not, he somehow found a whole new level of brutality at the net, using every inch of his 7ft 2in frame to plunder a match-winning 31 points.
On the other side, Brazil were no longer quick around the court and the previously-excellent Sergio could not feed Bruno who would in turn tee up Wallace and Murilo at the net.
The change was remarkable and a far cry from the start of the game when Brazil were desperate to ride the wave of support started by their victorious female counterparts last night. When the two teams were announced, the overwhelming backing belonged to the South Americans.