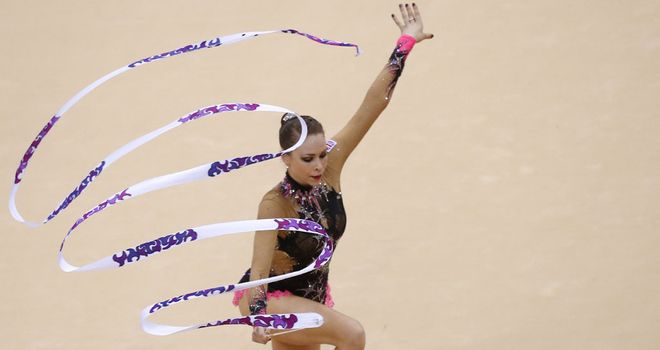 Francesca Jones: Unable to make the final
Francesca Jones and Great Britain were unable to make the finals of the rhythmic gymnastics individual and team all-around events as Russia dominated both qualifying competitions.
Reigning individual champion Evgeniya Kanaeva led the way ahead of Daria Dmitrieva after the final two rotations, clubs and ribbon, to live up to her title of hot favourite with a score of 116.000 after all four pieces of apparatus.
Kanaeva leapfrogged Dmitrieva (114.525) into top spot after her fellow Russian had led the way overnight after the ball and hoop routines.
Jones, Britain's only representative, finished 24th, the last place, with a total of 94.625 after 23.900 with the ribbon and 21.975 with the clubs, following on from Thursday's hoop (24.200) and ball (24.550) routines.
It meant the end of the road for the 21-year-old at her debut Olympic Games, and she was disappointed with the result after she lost control of one of her clubs in her final appearance in the competition.
Jones said: "I'm really sorry I just couldn't do it justice.
"I'm very disappointed. It's such a mistake. You can't control it. There was nothing I could do to control it.
"I tried my best and I'm so grateful to be here. The support has just been phenomenal.
Support
"The support of everybody has been amazing. I couldn't have imagined so much support from everybody. The whole spirit of Team GB has been amazing."
The six-time British champion produced a clean routine with the ribbon to follow on from her overnight 21st place but struggled with the clubs to leave her last in the rankings.
The top 10 gymnasts will now compete for the medal positions in Saturday's final at Wembley arena.
After a strong performance on Thursday, Dmitrieva lost ground after two fumbles during her clubs routine.
However, despite the mistake, she eased into the final due to the high difficulty tariff of her routines where she will face Dmitrieva, Azerbaijan's Aliya Garayeva who qualified in third and Bulgaria's Silviya Miteva in a strong field.
Team
In the team event, the British group scored 23.850 for Friday's ribbon and hoop routine and finished last in 12th place with a total of 48.000 after Thursday's five balls routine earned them 24.150.
Russia (56.375), Italy (55.800) and Belarus (54.750) topped qualification for Sunday's final and they will be joined by Bulgaria, Spain, Ukraine, Israel and Japan in the battle for medals.
The British team of Rachel Smith, Louisa Pouli, Francesca Fox, Lynne Hutchison and Georgina Cassar performed a dramatic routine to huge applause from the home crowd as sixth member Jade Faulkner sat out.
With only the top eight qualifying for the final, it marked the end of the competition for the GB rhythmic group, who fought a tough battle to reach the Games.
The group - who were the first to represent Britain in rhythmic gymnastics - remained defiant about their right to compete in the Games after they finished just 0.025 of a mark behind Canada.
Britain had originally looked set to miss out in January when they missed the target score set by the governing body by 0.273 marks in the group all-around qualifying competition at the test event but then had the decision overturned on appeal.
Hutchison said: "It was so important for us to make it here as I think we've shown Great Britain what rhythmic gymnastics is, that we can fight to be up with the top teams.
"If something is put into this sport after the Olympics hopefully in the next Olympic Games we'll be fighting with the other countries.
"We proved by coming that close to Canada, the difference was nothing. We weren't expected to beat anybody but to come that close shows we can compete with Olympic countries."
Proud
Smith, who captained the side, agreed that her team has proved they deserved to be at the Games.
She said: "We were only 0.025 behind the country ahead of us and only one mark behind Germany who qualified for their right in the first place so it shows that we are credible.
"We weren't far, far behind. 0.025 is practically nothing. It's amazing what we've achieved and we couldn't be more proud of what's happened.
"That score is a lot higher than what we got at the test event so we're very happy with it. It's really amazing. For the routine we did I think that score is deserved."
Cassar, who took part for the first time today in the ribbons and hoops routine, was also pleased with the group's performance.
"I think I was under more pressure today but I was so excited to get out there and show everyone," Cassar said.
"After two years of solid work to get to where we are, everything came down to two minutes 30 seconds and we just smashed it and I'm just happy we went out that way."
Fox admitted she could not expect any more from their once in a lifetime Olympic moment.
She said: "Everything is just so overwhelming today. I'm still speechless. You can't expect any more from anybody.
"The crowd was all behind us and I think Britain has put on the best show ever.
"What we've been through we've proved that we should be here because we're so close to other countries who have qualified by right."