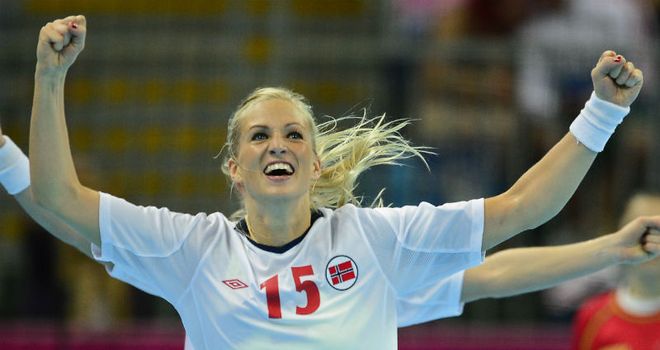 Linn Jorum Sulland: Netted 10 goals to inspire Norway to victory in a tight affair
Norway edged a thrilling final against Montenegro to retain their Olympic title in the women's handball competition.
The Scandinavians, who topped the podium in Beijing four years ago, were slow burners in the tournament, struggling in the early stages, but they saved their best to last and emerged triumphant in a tight 26-23 game at the Basketball Arena, which was inspired by Linn Jorum Sulland's 10 goals.
It continues their domination of the women's game as the gold medal at London 2012 adds to the European and World Championships Thorir Hergeirsson's side have won over the last 18 months.
For Montenegro, silver creates history as they become their country's first Olympic medallists since its independence from Serbia six years ago and they can walk away with their heads held high after pushing Norway all the way.
Katarina Bulatovic almost single-handedly kept them in the game with 10 goals, taking her tally to a superb 53 for the tournament, but it was in a losing cause, though they did not seem too upset at the final hooter as they celebrated a first medal.
Norway have slipped through the gears in the tournament and, after a slow start in the preliminary stages, they found their stride in the knockout rounds to reach Saturday's final, with their performance in Thursday's semi against South Korea particularly slick.
No fear
Despite their underdog status, Montenegro arrived holding no fear as they advanced past France and Spain to book their place in the gold-medal match and they started brightly forging into a 4-2 lead after 10 minutes.
Bulatovic continued her fine form with three goals, to take her clear at the top of the scorers' chart, while Norway were unable to find their range in front of goal and converted just two of their opening 13 shots.
That all changed, though, as four straight goals in the next five minutes took Norway clear at 6-4 with 16 minutes on the clock and they were able to convert that into a 13-10 half-time lead thanks mainly to the brilliance of Sulland, who threw in seven first-half goals.
Montenegro were struggling with their discipline and had three separate two-minute suspensions in the opening 10 minutes of the second half, but they fought hard in the face of adversity and kept the score to 17-15.
And that became 19-19 six minutes later as Dragan Adzic's side refused to lay down, with the influential Bojana Popovic getting into the game and pulling the attacking strings.
With a partisan backing from thousands of bell-ringing fans, the Scandinavians hit back, though, and another Sulland effort and a fast break from Ida Alstad gave them a two-goal advantage with just three minutes remaining.
Some strong defending kept that lead intact and it was extended to three with the final throw of the game from Goril Snorroeggen as Norway celebrated glory.