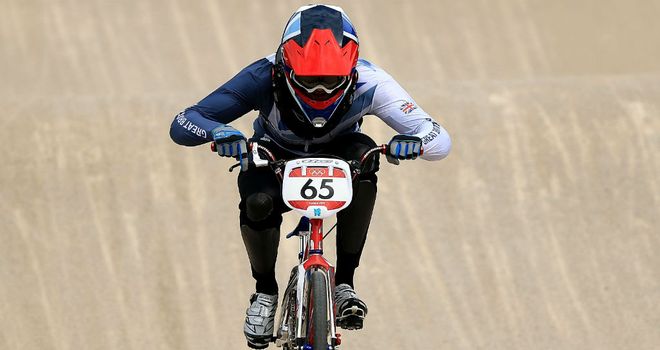 Liam Phillips: Hoping for success in the men's BMX event
Liam Phillips and Shanaze Reade will go in search of Olympic medals on BMX finals day at the London 2012 Velopark on Friday.
Reade advanced to the semi-finals as fifth-fastest qualifier on Wednesday, with Phillips progressing through an additional round, the men's quarter-finals, with minimal fuss.
Phillips advanced to the last 16 behind Connor Fields of the United States as one of the two best-placed riders after three of the five quarter-final runs before eyeing a place in the final.
The 23-year-old from Burnham-on-Sea said: "The most important thing is to make it to day two.
"It's just survival, it's getting to that final. Any one of the eight riders that make that final have got a chance to step on the top of the podium.
"I'm not bothered whether in the semi-finals I scrape through in eighth place.
"I know if I do that I've got just as good a chance has anybody to come away with a medal, so that's the plan."
Phillips finished second to Fields in the time-trial at the BMX World Championships in Birmingham in May, but a day later sustained a fractured collarbone.
Favourite
He has made a speedy recovery, though, and retained his form.
Phillips added: "It's not straightforward I can assure you, but I enjoyed it. I'd say Connor is the favourite coming in to the Olympics. He's a fantastic rider.
"He had the inside (line), and it's hard to beat someone when they've got the inside, but to be up there and be competitive into turn one, I can take a lot of positives from that."
Like Fields, fastest qualifier Raymon van der Biezen of Holland advanced with a 100% record, with world champion Sam Willoughby of Australia and defending Olympic champion Maris Strombergs among those also progressing.
Reade was set to return after a day's break to go for glory.
The 23-year-old from Crewe crashed out of the 2008 Olympic final in attempting a gold-medal-or-bust manoeuvre and was among the favourites in London.