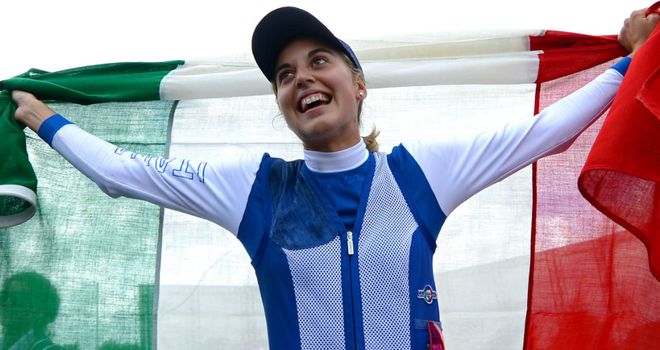 Jessica Rossi: missed only one target out of 100 in women's trap
Italian shooter Jessica Rossi smashed the world record as she blasted her way to victory in the women's trap shooting on Saturday.
The 20-year-old policewoman from Cento hit 99 of her 100 clay targets over three rounds of qualifying and during the one-sided final.
And in winning the gold she broke the old world record mark of 96, which has stood since 2006, to win by a comfortable margin of six points.
Rossi would have registered a perfect 100 if it was not for a miss with her 92nd shot, which drew groans from the crowd at the Woolwich Barracks.
Three competitors were tied on 93 and went into a shoot-off to determine the rest of the medals.
Slovakian Zuzana Stefecekova eventually took silver ahead of France's Delphine Reau, with Alessandra Perilli of San Marino having to settle for fourth place.
Rossi dedicated her gold medal to her family, who were affected by the earthquakes which hit northern Italy in May.
"I badly wanted to win the medal because my family suffered because of the earthquake in our region," she said.
"My family's house was damaged but now they are getting it repaired. I have to say after the first five traps I really had complete confidence that I could do it."
She added: "When I got to the final I was a little bit worried because things can go wrong, but I knew I could do it by believing in it, and I did it."