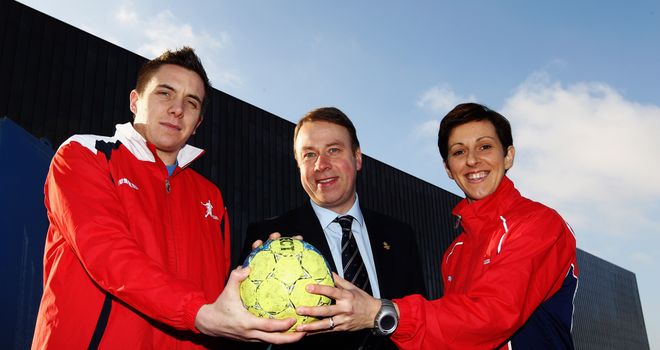 Bobby White
Back in 2007, Bobby White knew little about the sport of handball. Yet less than five years on, the university graduate is preparing to lead the GB team at the 2012 London Olympics.
At 6"4', White was always interested in football, having played at a semi-professional level as a goalkeeper. However, he was unaware just how important his height was to become.
In 2007, White, like Laura Innes - the GB Women's Handball captain - applied for UK Sport's 'Sporting Giants' programme. The Arsenal fan felt he had nothing to lose and met the requirements, one of which was that men needed to be at least 6"3', and as a result of several trials he was offered a full time contract starting in January 2008.
From this, he began playing at a sports academy in Denmark, a renowned handball nation. Here, he began to play for his first club, BMI. However, by the autumn White experienced his first funding setback, with UK Sport and the British Handball Association cutting his financial support.
He was offered a scholarship at A1 Bregenz in Austria the following year but again funding issues cut this move short, with White having to return to Denmark after only four months.
Things then began to look up for the goalkeeper, signing for top Denmark club, BSV, before moving to Greece during the pre-season of 2010. This was where he signed his first professional club contract, joining Crete club Kydon.
The current season has seen White continue to improve and this was reflected when he was offered the role as GB captain in June. Although his club future at Kydon is currently in doubt, due to the financial crisis in the country, White is optimistic about the 2012 Games which are fast approaching.
Although he has had to make many sacrifices to get to where he is now, including working on a building site to fund his dream, White has his sights firmly set on performing in front of a home crowd in London.
The young athlete, who not so long ago did not even know the rules of his Olympic discipline, hopes that the Games enhance the reputation of the sport and encourage more people to become involved, as the Olympic flame leaves London and heads to Rio.