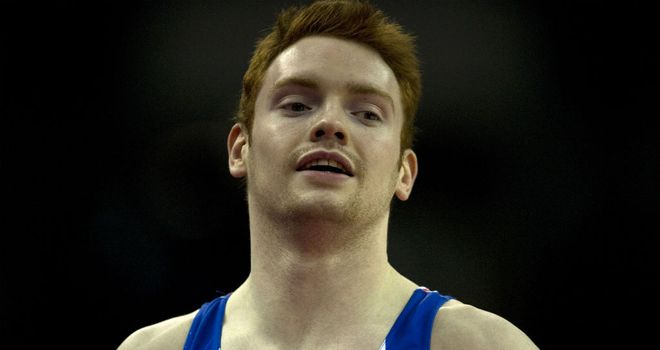 Dan Purvis: Three-time British champion
Daniel Purvis was crowned British senior all-around gymnastics champion for the third straight year this afternoon after posting a huge score of 91.550 points in the final Olympic trial at Liverpool's Echo Arena.
The 21-year-old from Southport recorded clean routines on all pieces, including 15.750 on an outstanding floor programme, to give the selectors a timely reminder of his talents with the five-man British team for London 2012 due to be announced on July 4.
"It's brilliant to win the title again and with it being the final Olympic trial it's even more special," said Purvis. "I felt good out there today and my routines were all clean so it's really encouraging looking ahead to the team selection."
Sam Oldham claimed silver with 90.050, sealing second spot with a solid high-bar routine, with Daniel Keatings (90.700) particularly impressing on the parallel bars and pommel on his way to bronze.
"The event was really close between a lot of the top lads and with three of us scoring over 90 it again proves the amazing talent we have in the squad," Purvis added.
"For me now it's all about waiting for that phone call and just hoping I'm confirmed for the team. My form over the year has been good so it's all looking really positive."
Smith stands out
On his favoured pommel, Beijing bronze medallist Louis Smith produced an outstanding performance with his new harder routine to score 16.200 and send out a real warning to his rivals ahead of the Games.
Oldham and Keatings were equally thrilled with their medals.
"That was incredible - better than I could ever have hoped for," Oldham said. "To go clean on all pieces and take a medal is brilliant. I knew I just had to go for it today - it's the last chance to impress and I nailed it."
Keatings added: "I'm just so happy. The past couple of months have been really tough for me battling through injury but I've tried to stay positive and this was always the focus.
"I just hope I've done enough to get on the team, but with the talent in the squad I know it's going to be a close call."
Kristian Thomas (89.550) slipped down to fourth after a fall on the high bars, with Max Whitlock (89.350) fifth and Ruslan Panteyleymonov (86.800) sixth.
Turney wins
Local teenager Rebecca Tunney delighted the home crowd as she claimed the women's all-around title.
The 15-year-old turned in clean performances on all four pieces of apparatus to post a score of 56.750, ahead of Jennifer Pinches on 56.350.
Tunney said: "It's totally unexpected to win. The main focus with it being the Olympic trial was to stay clean and I thought if I did that I could get maybe in the top five, but to win is incredible.
"The trials have all gone really well for me so it's now just up to the selectors to decide what works best for the Olympics.
"The first year as a senior couldn't have gone better really and I'm really enjoying competing in front of big crowds.
"Having won the junior title last year and moved straight up to win seniors is brilliant, I'm very happy."
It was a clean sweep for Liverpool on the podium with Hannah Whelan taking third place, scoring 55.800 despite a fall on the beam.
Beth Tweddle, returning from a recent injury, claimed top scores on the bars and floor.