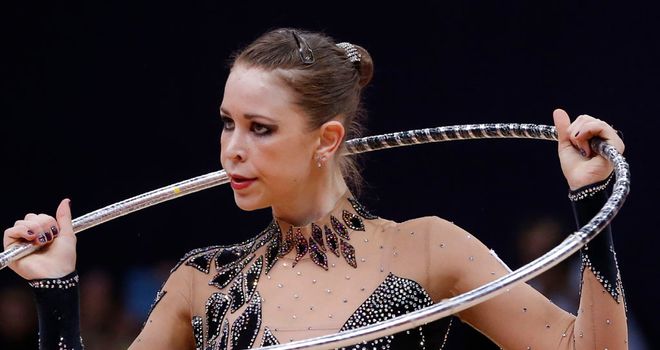 Jones: Pleased with her performance
Great Britain's Francesca Jones was in 21st place at the halfway stage of qualifying for the rhythmic gymnastics individual all-around competition as Russia's Daria Dmitrieva led the way.
There are 24 gymnasts bidding to finish in the top 10 in the individual competition to qualify for Saturday's final and they all competed with the ball and hoop on Thursday, with the ribbon and club apparatus rounds on Friday.
Jones was the fourth gymnast to take to the floor and competed with the ball to score 24.550 before 24.200 with the hoop gave her a total of 48.750.
Dmitrieva went to the top of the leader board after two rotations with a total of 57.800 ahead of fellow Russian Evgeniya Kanaeva and Belarus' Liubou Charkashyna.
Jones was pleased with her performance on her Olympic debut.
She said: "It was probably the most overwhelming competition I have ever done.
"I knew there was going to be a lot of support but that much blew me away.
Happy
"I was happy. There's always more you can do but with how nervous I was I was pleased with how it went overall.
"My target is just to be pleased when I come off the floor.
"I'm not really thinking about positions so for me it's just about doing the best I can and showing rhythmic gymnastics in this country is here and hopefully will inspire a lot of people."
Jones is competing thanks to a host nation place and the reigning British all-around champion produced a crowd pleasing performance to a haunting piece of music to be in 21st place - Britain's best ever finish in an individual event at a Games - after the first two rotations.
With the hoop, the Kettering-born gymnast remained composed in front of the home crowd to produce another clean routine.
Favourite
Russia's Kanaeva is the favourite to defend her individual title from Beijing and become the first two-time individual all-around champion in rhythmic gymnastics.
Kanaeva, competing with a gold hoop, was marked slightly down after losing control to score 28.100 thanks to a 9.500 difficulty tariff and good artistry.
She then followed up with a spectacular performance with the ball to score a huge 29.525 out of a possible 30 marks to place second with 57.625 ahead of the resumption on Friday.
Group event
In the group all-around competition, Russia led qualifying as Great Britain's team finally realised their dream of competing at the Olympics.
The British group scored 24.150 to sit in 11th place after the first rotation with Russia (28.375), Italy (28.100) and Belarus (27.900) leading the way with the hoop and ribbon routine to come on Friday.
It is the first time Great Britain has been represented at an Olympic Games in the group all-around competition after they successfully appealed a decision by British Gymnastics to fill a host nation place.
They had originally looked set to miss out on the Games in January when they missed the target score set by the governing body by 0.273 marks in the group all-around qualifying competition at the test event.
The team of Rachel Smith, Louisa Pouli, Francesca Fox, Lynne Hutchison and Jade Faulkner performed in the five balls routine in front of thunderous applause from the home crowd as sixth member Georgina Cassar sat out.
Thrilled
They were the third team to compete and produced one of their best ever performances before being overcome with tears of joy as they sat waiting for their score to flash up - a huge step away from the heartbreak they suffered after missing out on Olympic qualification.
Fox said: "I feel absolutely amazing. What an experience. I totally enjoyed every minute. We're just trying to inspire people and raise the profile of rhythmic in Britain.
"To begin with we're kind of in our own little bubble so we don't really recognise anything, but at the end, as you saw, some of us were crying because it's just so overwhelming.
"You can't explain it really. It was from heartache [at the test event] to absolutely loving every second.
"We're just so proud of each other because obviously we've helped each other through the difficult times that we had but obviously it just shows today how we can achieve."
Inspire
The top eight groups will qualify for Sunday's final and while Britain are not expected to make it, Faulkner hopes their efforts will help to inspire a new generation of rhythmic gymnasts.
She said: "Our target was getting here to be the first group from Great Britain, that was our target achieved.
"We just wanted to come here and do our best and show everyone we deserve our place at the Olympics.
"The ribbon and hoop routine is quite different to the ball. It's a lot more dramatic. We'll perform it just as well tomorrow and hopefully everyone will cheer just as loud."