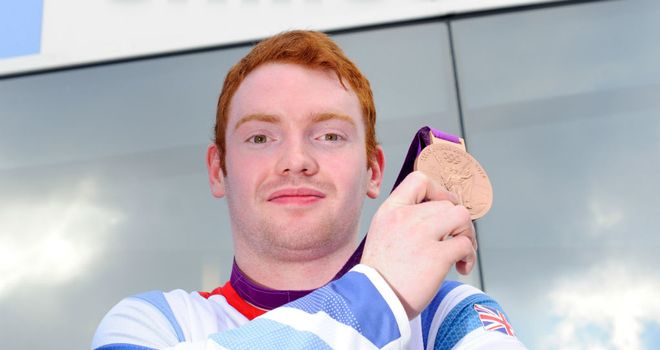 Daniel Purvis: The Olympic bronze medallist is still on cloud nine
For Liverpool gymnast Daniel Purvis, the most memorable element of the London 2012 Games was when he finally caught a glimpse of his nearest and dearest in the bulging crowds at the North Greenwich Arena.
The 21-year-old Olympic medalist told Sky Sports: "Right after I got the medal, I saw my mum and dad and my coach and all my friends up in the crowd, and that was the magic moment to see them all there."
Having been part of the Great Britain men's artistic gymnastics team who won the bronze medal during the first week of action, Purvis is still on cloud nine.
"It feels like a lot of pressure has been lifted off my shoulders."
Dan Purvis Quotes of the week
The squad, which included Louis Smith, Max Whitlock, Sam Oldham and Kristian Thomas, dramatically lost the silver medal following an appeal by Japan.
However, the bronze medal is an incredible achievement for British gymnastics, sealing Britain's men's first Olympic team medal since a bronze in 1912.
Purvis also managed an impressive 13th place finish in the all-around competition and is now enjoying the Olympics as a fan, taking time to soak up the village atmosphere.
Special
He said: "I'm feeling pretty good to be honest! It feels like a lot of pressure has been lifted off my shoulders and it's really nice that I can sit back and relax and just enjoy the Olympics.
"To get the bronze medal as a team, that was extra special. To do it with guys I've been training with my whole life, it was great.
"The atmosphere of being part of Team GB at a home Games was just amazing! It was amazing the support we got; it was almost like a sixth member of the team.
"It really did help (having a home crowd). Right at the end, when we knew we had the medal, it just erupted in there!"
As the Olympics slowly start to draw to a close, Purvis is keen to return to the gym and his training schedule once again, as well as fitting in a well-deserved holiday.
Legacy
Looking to the future, and a distant dream of competing in Rio in four years' time, Purvis is hopeful that London will have succeeded in ensuring that a legacy has been created.
"I think there will definitely be a positive legacy for gymnastics as a result of these Games," he added.
"We've got some great juniors coming up and this is going to inspire so many people. People really seem to pay attention to gymnastics now and that's great. Hopefully in the next few years we will have a strong team."
However, for now, the elated gymnast is keen to bask in the Olympic sunshine that has shone on him and his teammates over the past two weeks.
"These Games have exceeded my wildest dreams," he added. "Standing on that podium with my team; that's something I will never forget. Getting that medal around my neck was unbelievable."
Daniel Purvis is part of Team Samsung and is inviting everyone to participate in the spirit of the Olympic Games with the Samsung Hope Relay app and raise money for charities like the Kids Company. To take part download the app now for free at www.samsung.com/hoperelay