1994: May 21 - Born in Plymouth.
2008: March 24 - At the age of 13 becomes the youngest ever European champion when he claims gold in the men's 10m platform in Eindhoven.
August - Represented Great Britain at the Beijing Olympics at the age of 14 years and 81 days - making him the youngest ever male Olympian from Great Britain. In the 10m platform individual finished seventh. Finished eighth in the 10m platform synchronised with Blake Aldridge, who he fell out with after Aldridge took a call from his mum between dives.
2009: February - He is unable to dive alongside Aldridge at the British Championships after his 26-year-old partner is punched unconscious during a nightclub brawl in Southampton.
March - Daley's father, Rob Daley, says his 14-year-old son will never dive with Aldridge again because he was "not a good influence".
June 2 - Moved schools because of bullying at his former college. He leaves Eggbuckland Community College to continue his schooling at Plymouth College.
July 21 - Shocks his rivals to become platform world champion in Rome. At just 15 he becomes Great Britain's youngest ever world champion.
2010: February 8 - Beaten into second place by Peter Waterfield at the British championships as he struggles with a new, more difficult list of dives.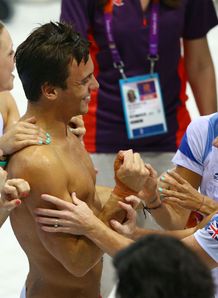 Daley mobbed by his GB team-mates
August - Misses the defence of his European platform title with a triceps injury.
September - His father, Rob, is re-diagnosed with a brain tumour. He had been first diagnosed with it in 2006 before 80% was removed.
October 13 - Wins his first Commonwealth Games gold medal alongside Max Brick in the platform synchro.
October 14 - Wins the individual platform gold at the Commonwealth Games in Delhi.
2011: April 11 - Daley claims his best hope of an Olympic medal is alongside Athens silver medallist Peter Waterfield in the platform synchro.
April 15 - On an emotional night Daley wins World Series gold in Sheffield alongside Waterfield in just their second event together. Afterwards Daley was pictured in a tearful embrace with his father who had made the trip from Plymouth despite his deteriorating health.
May 27 - Daley was at the bedside of his father Rob when he died following a long battle with brain cancer.
June 12 - Finishes second in the platform at the British Championships in Leeds - his first meet since the death of his father.
July 24 - Fails to defend his platform world title in Shanghai, finishing fifth.
2012: February 14 - British performance director Alexei Evangulov warns Daley to cut down his media commitments or face missing an Olympic medal. Evangulov also claimed Daley's Chinese rivals "worked three times harder".
February 15 - Daley's management company release a statement on his behalf denying he is doing too much media work.
February 23 - Daley and Waterfield finish a disappointing seventh in the platform synchro at the World Cup in London, after which Evangulov likens the teen to fallen-star tennis player Anna Kournikova.
February 27 - Daley's management company release a second statement claiming the feud with Evangulov had been resolved following a meeting also attended by Daley.
April - Daley is crowned the overall platform champion at the World Series, finishing the four-leg competition with a personal best 562.85 in Mexico.
May 20 - Reclaims his European platform title in Eindhoven with a new lifetime best 565.05.
May 21 - Releases his autobiography 'My Story' on his 18th birthday. Evangulov backs him to win a medal at the London Olympics.
June 10 - Says he is in the form of his career after reclaiming the British platform title in Sheffield, where he also confirmed his Olympic place in the individual and synchro platform.
July 30 - Finishes fourth with team-mate Waterfield in 10m platform synchro.
August 11 - Wins bronze medal in men's 10m platform.