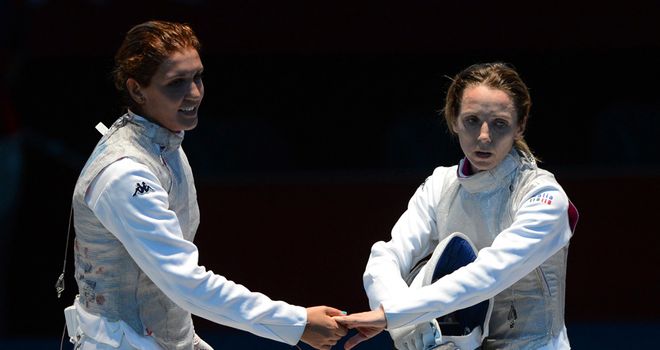 Arianna Errigo shakes hands with Valentina Vezzali
Elisa Di Francisca took gold in an Italian clean sweep of the women's individual foil on the first day of fencing action - but Valentina Vezzali missed out on creating history.
The 29-year-old beat Arianna Errigo 12-11 in a final at the ExCeL arena that went to sudden death after 38-year-old star Vezzali, bidding for a fourth consecutive gold in the event, had been forced to settle for bronze in even more dramatic fashion.
Vezzali, who carried Italy's flag at the opening ceremony the night before, came back from the huge disappointment of losing her semi-final to Errigo to beat Nam Hyun-hee, the Korean she beat in the 2008 final, in overtime.
The police officer, whose incredible Olympic story began with a silver in Atlanta in 1996, trailed Nam 12-8 with only 13 seconds remaining, but levelled with a second to go and then triumphed.
Tearful
After breaking down in tears and kissing the piste Vezzali said: "I wanted to win a fourth (gold), but I go home with the bronze - it's ok.
"Today was very difficult. Five Olympic Games and all the time the pressure is more and more."
No woman has achieved four straight golds in any individual Olympic competition - and the only men to have done it are Carl Lewis in the long jump (1984-96) and fellow American Al Oerter in the discus (1956-68).
Her third place means world number one Vezzali equals compatriot Giovanna Trillini with a women's record eight medals in the sport and Italy are now even stronger favourites for team gold on Thursday.
The last four was contested by the world's top four, but the semi-finals were both upsets according to the seedings.
Third-ranked Di Francisca came from 9-5 down with under a minute left to level and beat Nam eight seconds into sudden death.
She was then 11-8 behind to Errigo with 37 seconds left, but scored three times in the space of three seconds of action and needed only one extra second to take the title.
Di Francisca had also been given a real scare in the last 16 by Germany's Carolin Golubytskyi, who led 8-3 and was still 8-6 ahead when she was felled by a blow to her neck and needed treatment for nearly five minutes.
"It was not fair - she touched and then hit me with her (hand) guard. It was a boxing hit," Golubytskyi said after getting back on her feet and losing 15-9.
"It changed the rest of the fight. It upset me. I was not mean enough - I'm not a mean person. I've got four years to work on this to become stronger."
British woe
Earlier Britain's first three fencers into action were unable to make it into the last 16.
Polish-born Natalia Sheppard and Londoner Sophie Troiano had to fight each other in the first round, but after winning a tense clash 12-9 Sheppard was then crushed 15-5 by France's world number six Corinne Maitrejean.
Meanwhile, Aberdeen-born Anna Bentley, by far the lowest-ranked of the 38 competitors in the event, was a heart-breaking one second away from pulling off a huge upset, but lost in sudden death.
The 31-year-old, at 165th in the world ranked 122 places below Canadian Monica Peterson, brought a huge roar from the crowd when she took a 9-8 lead with six seconds remaining.
But her opponent levelled it with a do-or-die lunge and, despite Bentley's protestations, scored the decisive hit 23 seconds into the extra minute.
Sheppard refused to blame being woken up by the opening ceremony fireworks.
"I couldn't believe how loud they were - incredible," said the 28-year-old, whose older sister Irena fenced for Poland in Beijing four years ago.
"I got my phone to take pictures, but by then it was all over. All I got was smoke - London on fire basically. But that was fine - it's part of the Olympics - and even though I didn't go to the ceremony I've got the clothes. That's my clubbing outfit!"
As for her defeat she said: "Corinne is an amazing fencer and the French have really come on - helped by us because we invited them to a training camp in February to improve our performance.
"It's her second Olympics, so she has all the experience behind her, and a few of the tactical things we worked on didn't 100% pan out.
"A couple of decisions I didn't agree with as well, but I'm not trying to take away from her. I'm sure she's going to do great things. She was just able to hit every position today - everything was happening for her."