Gymnastics is one of the staple Olympic sports having been ever-present since the first modern Games in 1896.
As with Beijing, there are three elements to the program in London for 2012 with medals available in artistic gymnastics, rhythmic gymnastics and also trampolining.
GLOSSARY OF TERMS
Code of Points: This is the rulebook for gymnastics which specifies the difficulty value of all skills, as well as outlining the requirements that must be fulfilled for each event.
Dismount: The act of getting off a piece of apparatus, with competitors judged on their ability to do it as skilfully and as successfully as possible.
FIG: The international sports governing body for gymnastics, or Federation Internationale de Gymnastique to give them their full title.
Floor Exercise: The event performed on the floor apparatus. Men and women perform choreographed routines that include tumbling and acrobatic skills, with judges scoring them on their precision and also the difficulty of their routines.
Gainer: A skill in which a gymnast performs a backwards somersault whilst moving forward.
Hand guard: A glove or wrist strap worn by gymnasts to protect the skin on their hands when they perform.
Kip: A skill in artistic gymnastics on the uneven bars that is used at a way of getting on the bar in a front support position or a handstand from a hanging or standing position.
Mount: The act of getting onto an apparatus and the skill used to do it.
Out of bounds: Used when a gymnast crosses the line that indicates the border of the mat. Going out of bounds will result in a score deduction from the judges.
Salto: A somersault.
Springboard: A piece of equipment required on the vault, and used as an optional aid for mounts on parallel bars, balance beam and uneven bars.
Straddle: A sitting position with the legs wide. It is a term often used during a pommel horse routine.
The artistic element will see a grand total of 14 golds handed out at the North Greenwich Arena from Saturday, July 28 until Tuesday, August 7.
Men compete in six disciplines - floor, horizontal bar, parallel bars, pommel horse, rings and vault - while for women there are only four - asymmetric bars, balance beam, floor and vault. Both sexes also contest team and individual all-around competitions.
These events require huge amounts of strength and flexibility but the very best performers are able to make the demands placed on their body look effortless and elegant, placing gymnastics at the border of sport and art.
A major overhaul of the scoring system was made in 2006 in an effort to make the process more objective and reliable, meaning gone are the days of "perfect 10s".
One panel of judges looks at difficulty value (DV), element group requirements (EGR) and connection value (CV) to come up with the A score, which has no upper limit.
The other panel of judges is tasked with evaluating the performance in terms of "execution, composition and artistry" to come up with the B score. They start at 10.0 and remove marks for errors.
The A and B scores are added together to get the final mark. This system applies to all disciplines except the vault, which is judged on two further criteria (the D and E score).
Unlike the last Olympics, London has seen a new qualification system used. The 2010 World Championships in Rotterdam saw the top 24 nations reach the next stage, which will be the next championships in Tokyo in July 2011.
From there the best eight countries will go through, while those ranked ninth to 16th will get one more chance to clinch one of the four remaining places when they complete in an Olympic test event at the start of 2012.
That final competition is also the only chance for individual gymnasts to qualify for specific events; those who medalled at the 2011 World Championships have automatically qualified.
Rhythmic gymnastics will see just two medals on the line - individual and group (which contain five gymnasts) - and is only for women. Those taking part perform short routines using a small piece of hand apparatus, such as a rope, hoop, ball, clubs or ribbon.
Scores are awarded by three panels of judges who assess the difficulty, artistry and execution of each exercise.
Trampolining will see 16 men and the same number of women competing for a gold each, which will be decided by a performance involving a series of 10 judged elements, each of which will contain multiple somersaults and twists.
History
The Federation Internationale de Gymnastique (FIG) was founded in 1881 although the origins of the sport date back much earlier - Ancient Egyptian art depicts circus-style acrobatics being performed in around 2100 BC.
The Ancient Olympics did not feature gymnastics but it was used by the Greeks as training for athletics and wrestling.
DID YOU KNOW?
The word 'Gymnastics' comes from the Greek for 'naked' - early gymnasts used to perform without any clothes.
Gymnastics have, however, featured in every edition of the modern Olympics, although women did not compete until a team competition was added in 1928.
In some of the early Games, medals were awarded for events such as rope climbing and club swinging - it was only in 1952 with the addition of individual events for women that the program began to resemble its current form.
With the exception of 1948, when scores were marked out of 20, points since 1936 have been marked out of 10, although that will change in Beijing with the introduction of the FIG's new scoring regime.
A rhythmic gymnastics event for women only was introduced in 1984 - performances take place on a 13 square metre floor area to the accompaniment of music.
The most recent addition to the Olympic gymnastics schedule was trampolining, which debuted at the Sydney Games.
Olympic Greats
Larissa Latynina: The Russian is the most decorated Olympian in history, male or female in any sport, with 18 medals (nine gold, five silver and four bronze) from 1956-1964.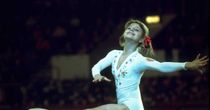 Olga Korbut starred in 1972
Olga Korbut: At Munich in 1972, Korbut defied the ice-cold communist stereotype to enthral audiences on her way to three gold medals. She also took silver on the asymmetric bars and is credited with moving the sport to a new level of technical skill, including being the first to perform a back somersault to swing down on the balance beam, a move which became known as the 'Korbut Flip'.
Nadia Comaneci: The Romanian produced arguably the most memorable of all Olympic gymnastic performances in Montreal in 1976 when - aged just 14 - she won three golds (all-around, beam and bars), a silver (team) and a bronze (floor). Her routine on the asymmetric bars was the first to be scored a perfect 10.
Nikolai Andrianov: The Russian leads the way for men with 15 medals - seven gold, five silver and three bronze - earned in three Olympics from 1972-1980.
Vitaly Scherbo: The last great product of the Soviet system, he marked the fall of communism by winning six gold medals in 1992, a tally for an individual competitor in a single Games that is second only to American swimmer Mark Spitz, who won seven at Munich in 1972.
Yang Wei: The Chinese gymnast, known for taking on highly difficult scores, ended up with gold in both the individual all-round and the team final for the third successive time. He then added to his already sizeable medal collection with a silver medal in the pommel horse, thrilling the home crowd in the process.
Best of British
Great Britain has a less-than-glorious gymnastics pedigree having won just four medals in Olympic history.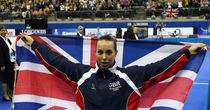 Beth Tweddle will have hopes of a medal in London
Louis Smith added to that slender tally in 2008 by taking a bronze in the men's pommel horse, becoming the first British individual to make it onto the podium in 80 years.
Smith, who became just the second black male gymnast to win a medal in an Olympic competition four years ago, will be hoping to add to his haul on home soil.
The last man to do so was Walter Tysall, who took men's all-around silver on home soil at the London Games of 1908. He was also part of the men's team who claimed bronze four years later in Stockholm.
Before Smith's success, the most recent medal for Britain came when the women's team finished third in the inaugural team competition at Amsterdam in 1928. Beth Tweddle finished fourth in the women's uneven bars final in Beijing.