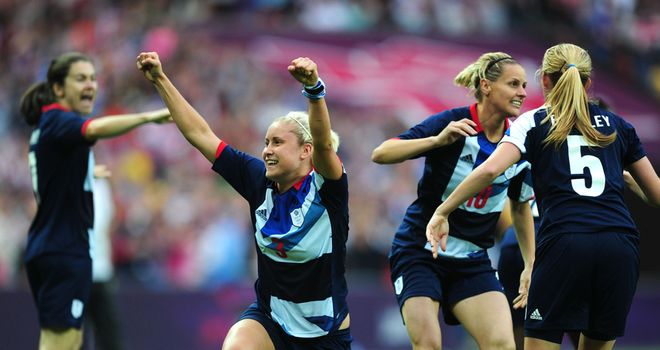 Steph Houghton: scored in each of the British team's three group games
Kelly Simmons, the Football Association's head of national game, hopes to find a way for the British women's team to compete at the Rio Olympics.
Head coach Hope Powell has been vocal in her calls for the unified team to continue after the overriding success of London 2012, where a 70,000-strong crowd watched their final group game against Brazil at Wembley.
However, FA general secretary Alex Horne has suggested it was "unlikely" that the concept of a unified Team GB would be resurrected in 2016.
The men's and women's football teams qualified for 2012 through the host nation berths, but they were only ever billed as a one-off arrangement due to concerns over unifying the four home nations.
Simmons conceded it would be a challenge for Team GB to compete at another Games, but knows the team's return would only benefit women's football.
"It is difficult and I think our general secretary has said it will be challenging," she said.
"There is, however, a compelling case, as he said, for looking at women's football because it gives it a platform it often doesn't get - both globally and domestic.
"But it isn't just an FA decision so we would need to talk to the home nations, FIFA, the BOA - there would be a number of stakeholders involved in the decision.
"I am sure for anybody, including here [at the FA], if there was a way to make it happen, we would make it happen.
"But somehow we've got to qualify and that's tough. That means coming in the top three in Europe through the World Cup and that's tough as well.
"So there are a number of factors before we can come to a decision, but there is no doubt, when you look at what happened here with Olympics, it was a huge opportunity for the women's game."
Star
Steph Houghton was the star of the summer, finding the net in each of the British team's three group games before they were knocked out in the quarter-finals by Canada.
The midfielder now returns to club action with Arsenal in the FA Women's Super League, but would love to don the Team GB kit again in Brazil.
"This summer's Olympics was unreal - a massive experience and it was brilliant to be part of Team GB," she told Press Association Sport.
"If anybody asked if I want to be part of Rio and it was possible, I would definitely say yes.
"I am sure a lot of the squad would do as well because the last four or five weeks have been amazing and definitely the best time of my life.
"The whole Olympic village experience as well as playing four massive games for Team GB is something that is so special and will stay in my memories forever.
"It is unforgettable and I am a little bit sad but I've got a new focus now, the FA WSL season as well as England qualifiers.
"That is the important thing now. To get back in the swing of things with Arsenal and make sure we push on try and win this league."