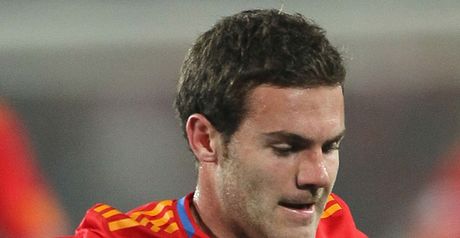 Juan Mata: Wants to win everything for Spain this summer
Spain winger Juan Mata has set his sights on winning the European Championship and an Olympic gold medal this summer.
After making a successful start to his Chelsea career following his £23.5million move from Valencia last summer, Mata has scored nine goals in what has been a largely disappointing campaign for the side under manager Andre Villas-Boas.
But the creative playmaker has been an exception after showing some sparkling form for the Blues.
And now Mata has his eyes set on helping his national side retain their crown at Euro 2012 in Poland and Ukraine before attempting to repeat their success at the Barcelona Olympics by winning football gold in London.
After captaining the Under 21 team to glory at last summer's European Championship in Denmark, Mata is confident that he can help Spain produce a 'perfect summer' of football.
Best moment
He told The Times: "Carlos Marchena (his former Valencia team-mate) told me the Olympic Village is something you have to live.
"It is full of young people from different sports, from the NBA and tennis and volleyball and handball players, all together.
"This is our best moment as a footballing country. Champions of Europe and the world, and now we can win a gold medal at the Olympics.
"It is something players can only experience once. It would be a perfect summer for me to play in both."