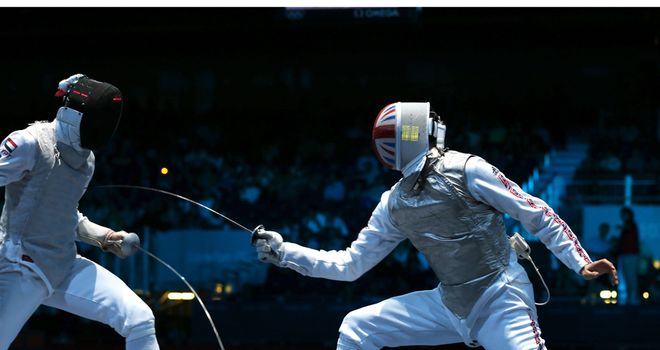 Richard Kruse: With his GB team produced a valiant display against Italy
Britain's last chance of a fencing medal came and went at the ExCeL on Sunday - but they gave it their very best efforts against eventual champions Italy.
The Italians, Olympic champions six times, won the sides' quarter-final by a 45-40 margin.
Richard Kruse, James Davis and Husayn Rosowsky had beaten Egypt 45-33 to reach the last eight and after Laurence Halsted replaced Rosowsky were level 35-35.
Kruse went into the last bout against Andrea Baldini trailing 38-40, but Italy's losing semi-finalist in the individual event saw them through.
Former European silver medallist Halsted had travelled to the last two Games as Kruse's training partner and then was left out of the individual competition,
but when his first chance of Olympic action finally came he grasped it by
beating world number eight Valerio Aspromonte 6-5.
Class
He said: "It was almost exactly to plan. We just needed to be really close
at the end - we knew we were not going to run away with it against the best in
the world.
"To be in it at the end with a chance was definitely what we meant to do, but
they had just a class finisher.
"We felt like we had a real shot at it being on home turf after winning the
test event here and we came so close.
"I think we could have beaten anybody else and we showed we could have beaten them as well."
Advantage
Kruse, a quarter-finalist in Athens, had looked completely down in the dumps
after losing straightaway in the individual, but he and Davis, both really
pumped up, had some great moments.
Davis, only 21 and already 23rd in the world, thrashed Aspromonte 9-4 to turn a 15-11 deficit into a 20-19 advantage and then beat current world champion Andrea Cassara 6-5.
However, Baldini won all his three contests and kept his nerve.
Italy went on to beat Japan 45-39 in the final to take the gold medal, while Germany saw off the USA for bronze.
GB finished the competition in sixth place. After losing to the Italians they beat France 45-29 in the classification matches before losing 45-35 to Russia..