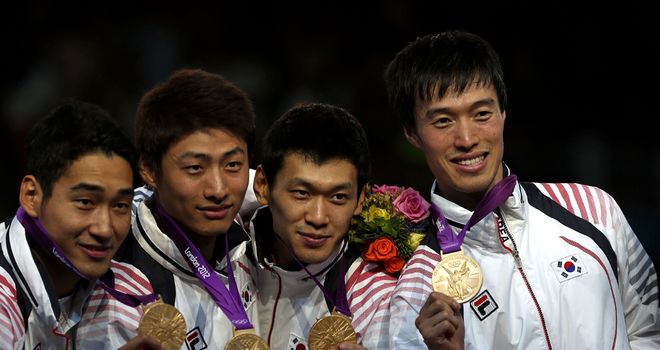 South Korea: Men's team sabre gold medal winners
South Korea defied the seedings to add the men's team sabre gold to their impressive collection at the ExCel.
Seeded only sixth of the eight sides, they triumphed 45-26 over Romania in the final following earlier wins over Germany and Italy.
Prior to these Olympics the Koreans had only ever won three fencing medals, but this was their fifth of the week and second gold.
The Italians achieved their sixth - two of each colour - by taking bronze with a 45-39 win over Russia.Gu Bongil, Won Woo Young and Kim Junghwan saw Korea almost to the finishing line and with the title in sight reserve Oh Eunseok came on so that he too could go home with a medal.
He justified their faith in him, beating Romanian substitute Alexandru Siriteanu 5-1 and then watched Won complete the job.
Excitable
Italy were ranked seventh, but also beat second seeds Belarus before losing to the Koreans.
The excitable Italians - the referee even awarded a point against them for going over the top - were silver medallists in Beijing and third in Athens.
Aldo Montano, individual champion in Athens, and Luigi Tarantino were members of those sides as well, while Diego Occhiuzzi played last time and was the individual runner-up on Sunday.
Tarantino, 39, was left out of the bronze medal contest and substitute Luigi Samele became the star of the show, taking his three contests by a combined 19-14.
Salvaging
Montano, described as "a phenomenon" by Occhiuzzi, had saved them against the Belarussians and said: "I'll give all my heart to take a medal.
"That's why people love me because I'll make them love fencing playing like that."
Great Britain were not involved in the event and did not enter a side for the women's team epee on Saturday.
Their final chance of salvaging something from a desperately poor week - not one of the 10-strong squad made the last 16 of the individual competitions - comes in the men's team foil on Sunday.
Gu Bongil said the Koreans were partly inspired by what happened to team-mate Shin A Lam in the women's epee when the clock was turned back in her semi-final and from thinking she was in the final she ended up without a medal.
"We felt very sorry for her so we tried very hard to get medals," he stated.
"Some people may think we were not expected to win, but we had faith in ourselves and we had training camps all around Europe, which helped a lot.
"I feel very proud - it's a good way to promote fencing in Korea."