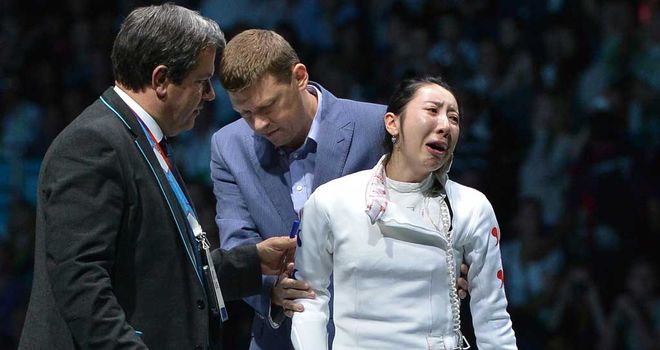 Shin A Lam: Suffered a controversial defeat in the semi-finals of the women's epee
The Korean Olympic Committee want the International Olympic Committee to investigate Shin A Lam's controversial defeat in the semi-finals of the women's individual epee.
Shin spent more than an hour - much of it in tears - waiting to be told that her bid for gold at London 2012 was over on Monday.
Shin thought she was through to the final of the women's epee, but the clock was then reset from zero to one second and she lost to German Britta Heidemann, then after a long protest during which while she remained on the piste she lost her bronze medal contest as well.
Korean Olympic Committee secretary general Choi Jong-Jun has now revealed that they will be asking for an investigation into the contest to be launched.
He said: "What we are going to do is make a formal request to the IOC to investigate this case and also we request an apology from the FIE (International Fencing Federation).
"We came up with three approaches to deal with this event. The first was to appeal to the FIE that this was an error that was based on the equipment failure.
"Before any referee misjudgment, this is a clear error of the mechanical workings and that means this is a systematic problem. We would ask for some practical compensation of this misjudgment.
Request
"If that avenue is not possible, or is not viable, we would work together among the FIE and Korean Olympic Committee and request the IOC come up with a compensation plan.
"We would look into the possibility of going to the Court of Arbitration for Sport (CAS) in order to find ways to compensate for this misjudgment."
The FIE proposed giving the 25-year-old a special medal for "aspiration to win and respect for the rules", but Shin, who competes in the team event on Saturday, was still not satisfied.
She said: "It does not make me feel better because it's not an Olympic medal. I don't accept the result because I believe it was a mistake."
Choi added that in discussions with the FIE "they did acknowledge there was a mechanical error and that in the history of fencing this type of accident that deals with the milli-second has not happened".
He added: "Therefore they acknowledged they were not prepared for this kind of accident. However, they said that because the judgment was made it's very difficult to repeal that judgment.
"The allegations that the KOC fencing association blocked Shin A Lam launching a stronger protest or stronger appeal at the time of the match is untrue and has no evidence whatsoever.
"The possibility of revoking the decision that's already been made was going to be very difficult."