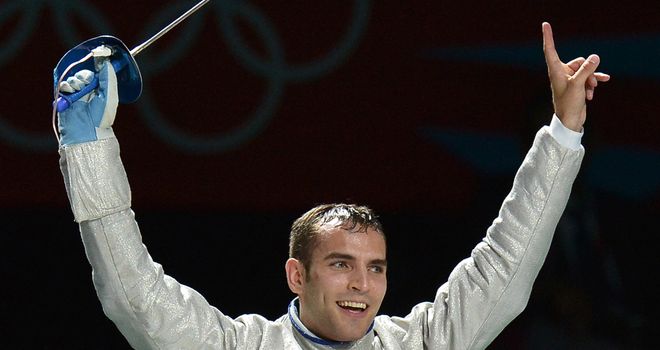 Aron Szilagyi: Won gold
Aron Szilagyi grabbed Hungary's first gold of the London Games as he continued his country's incredible Olympic record in men's sabre fencing at the ExCeL.
It was the 13th time a Hungarian had triumphed in the event - and that includes an amazing run of 11 out of 12 victories between 1908 and 1964.
The 22-year-old is their only fencer in the world's top 50 - he is ranked sixth - was their only representative in the 36-strong field and was also one of the youngest taking part, but after four earlier wins he easily beat Italian Diego Occhiuzzi 15-8 in the final.
Bronze went to Russian Nikolay Kovalev, who had beaten German world number one Nicolas Limbach in the quarter-finals. Kovalev beat Romanian Rares Dumitrescu to claim third place.
Early exit
Truro fencer James Honeybone's Olympics was over in a flash.
The 21-year-old, one of eight members of the 10-strong squad given a host nation spot, was beaten 15-9 in the first round by Valery Pryiemka, from Belarus.
At 93rd in the world Honeybone was ranked 52 places below his opponent, but he was really up for it. Even before he had been introduced he was on the piste wielding his blade to get the crowd more into it.
But after losing he said: "I made more mistakes and he punished them - I didn't perform and let everybody down a bit. I let myself down. Not good enough."
Britain's three women foilists had failed to reach the last 16 when competition began on Saturday with an Italian clean sweep of the medals.
The men's sabre favourites were German Nicolas Limbach and Russian Alexey Yakimenko.