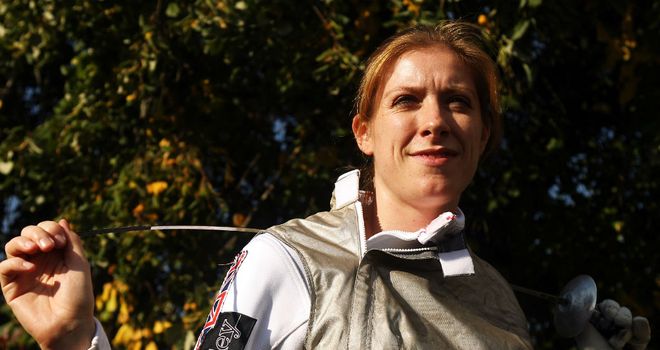 Anna Bentley: The GB fencer is named in 2012 squad
British Fencing has on Tuesday confirmed their final three athletes to compete at the Olympic Games.
National champion Anna Bentley, 31, and 25-year-old Sophie Troiano joined the women's team, while Husayn Rosowsky, 21, is set for the men's foil squad.
"I am absolutely delighted about being selected today, it is the culmination of many years of hard work. "
Anna Bentley Quotes of the week
Two reserves were also confirmed - Laurence Halsted and Martina Emanuel.
Alex Newton, British Fencing performance manager, said: "We have a really strong team and I am confident that they will fulfil their exciting potential in London.
"Now that the final team has been confirmed, I am looking forward to working with the athletes, coaches and support staff to ensure that we are fully focused on maximising our performances as we enter these final critical stages of our preparation."
Aberdeen fencer Bentley added: "I am absolutely delighted about being selected today, it is the culmination of many years of hard work, sacrifices and it really is a dream that has become a reality.
"I can't wait to compete in front of a home crowd and help the team achieve a personal best performance at the Olympic Games."
Appeal
The announcement comes following recent controversy surrounding selection.
British Fencing say it is time to put selection rows behind them as focus turns towards delivering a successful performance at the Olympic Games.
Scottish fencer Keith Cook appealed on Monday against his exclusion from the squad for London 2012 - claiming that British Fencing had failed to follow their written Olympic selection policy and procedures.
Louise Bond-Williams and Sophie Williams have been selected for the women's sabre, despite the fact Chrystall Nicoll and Joanna Hutchison are both ranked higher.
Only two of the seven actually qualified - Polish-born Natalia Shepherd and Richard Kruse in the foil - while the other five have been awarded Host Nation spots.
Bond-Williams and Williams are joined by foilist James Davis, James Honeybone in the men's sabre and Corinna Lawrence in the women's epee.
No British fencer has won an Olympic medal since 1964, but Kruse, 28, reached the last eight at the 2004 Games in Athens and has been ranked as high as fifth in the world.
David King, British Fencing communication director, said: "We have made what we think are the best decisions, both for 2012 and 2016.
"We have a good squad and it is time for everyone to get behind them and let's go forward."
Selection
However, Cook - the 2010 British champion and five-time Commonwealth Games medallist - has missed out.
The 31-year-old opted out of British Fencing's 'Olympic Pathway' two years ago for family reasons.
He was told in correspondence from British Fencing officials that while he was included in general discussions for selection, because performance manager Alex Newton had not been given contact details, as set out in Section 13 of the selection policy document, he was not informed that he had not been selected and the deadline for any appeal was passed.
Piers Martin, chief executive, explained in an email to Cook that because the Section 13 information was not received, British Fencing "did not consider that you wanted to be considered for selection".
Ranked 95 in the world and still in the British top six having battled against recent injury, Cook believes proper procedure was not followed.
Cook said: "I e-mailed the performance manager and asked to be let known what was going on because I had not received any information.
"I got one back saying it was to do with not giving your e-mail address and phone number - and I said 'you must be joking'.
"I have had constant e-mails, text messages and phone calls from the performance manager, I was part of the team who have been there for six years. They have got my phone number.
"I said 'no way are you going to do it on a technicality like that'.
"Basically they have broken their own process. I can't argue about who they have picked because it is discretionary places, but they did not give me a chance and did not follow the process of Olympic selection."