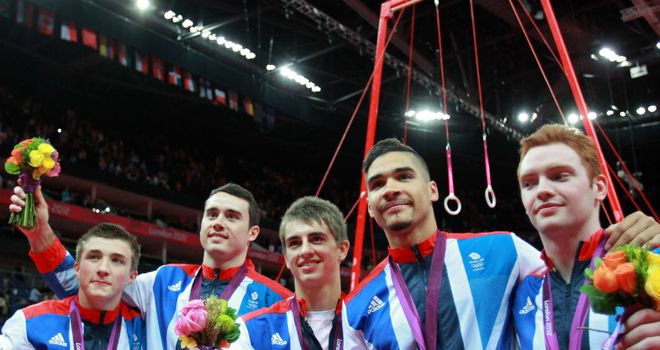 Great Britain's gymnasts rose to the occasion in London
The North Greenwich Arena, at one point known as the Millennium Dome, now known as the O2 before its temporary rebranding for London 2012, is home to one of those sports without which the Olympics would not be the Olympics.
I am speaking of gymnastics. If the Olympic Games were a human body then gymnastics would be an essential organ, whereas beach volleyball, for example, might be an extraneous limb - perhaps a pinky finger.
And golf, when it is added in four years, may not even seem to be properly attached to the Olympic body - it could be a tattoo or earring. But that's another story.
What's interesting about those sports that are integral to the Games is that they don't tend to go in for gimmicks. They don't feel the need to pump out loud pop music during lulls in the action, or to parade cheerleaders to hold the audience's attention.
They seem to trust that people won't get bored or impatient or walk out when there is a pause as the gymnasts move from one routine to another. The announcers, meanwhile, are understated and authoratitive, as opposed to shrill and excitable.
Perhaps it comes with the self-confidence of having been part of the modern Olympics since day one - and, before that, the original ones. The Ancient Greeks were past-masters on the pommel horse.
Empty seats
And yet, and yet... there were empty seats in the North Greenwich Arena on Monday evening, despite this being a final that featured, for the first time since the Paris Olympics, a British team.
In the event, it didn't merely feature a British team, for the first time since 1924. It featured a medal-winning British team, for the first time since 1912. It came in a stunning denouement to the competition, which initially saw the British team awarded silver.
Just as they were celebrating, it was downgraded to bronze after an appeal by Japan, who had slipped to fourth but now found themselves back in second.
It made little difference. The British team carried on celebrating anyway. They didn't really care what colour it was; the point was, they had a medal. Louis Smith, their talisman, even claimed to be "happy that Japan have a medal, because we all look up to them." After waiting 100 years, they could afford to be charitable.
When the British medal was confirmed, the place erupted. This was a knowledgeable crowd, and they knew exactly what it meant. Which could be another spin-off of gymnastics' blue riband status -- or as one of the Olympics' essential organs. Its history and heritage add lustre to what is already a pretty shiny, highly desirable prize of a medal.
Yet, as compelling as the action in the middle was, there was no avoiding those empty seats. While the gymnasts performed their gravity-defying routines, they did so to an almost-full house, but almost didn't seem good enough on this occasion.
The blocks of empty seats might be getting smaller day by day, but the problem seems merely to be camouflaged - literally.
In some corners of the 16,000-capacity arena there were splodges of dark green and brown, like foliage.
These were some of the stars of the Olympics, the soldiers who have been proving so friendly and efficient in their various duties, and who are now being drafted in to help fill venues.
At the gymnastics they proved to be a suitably mobile army. When they found themselves supplanted by ticket-bearing civilians in one corner, they would pop up in another previously empty block of seats, watching intently and clapping when appropriate.
Like most others in the arena, they were mainly following the five British gymnasts - Smith, Max Whitlock, Daniel Purvis, Sam Oldham and Kristian Thomas - as they worked their way around the floor, from pommel horse, to rings, to vault, to parallel bars, high bar and floor.
There were pockets of support - or perhaps just respect and aesthetic appreciation - for the flawless Chinese, who seemed guaranteed of gold from the minute they dabbed their hands in chalk, and also for their closest rivals, the Japanese.
Tension
Earlier in the afternoon there had been disappointment for the home crowd in another of the Games' blue riband events, the diving, when Tom Daley and Peter Waterfield saw a medal slip from their hands thanks to one bad dive.
Here, a few hours later, it looked as though it might happen again. After Smith had got the gymnasts off to a flyer on the pommel horse - to use gymnastics parlance, he 'nailed' it - they hovered in and around the medals, moving from third, to fourth, to fifth.
The pommel horse, incidentally, was Smith's only contribution - albeit a valuable one, as you'd expect from the Beijing bronze medallist in this discipline - following which he stood watching his teammates, legs splayed, hands thrust deep in his pockets, and clapping and encouraging as they completed their routines.
The scare came on the penultimate routine, when Sam Oldham, one of two 19-year olds in the team, slipped and fell from the high bar. Sixteen thousand stomachs lurched as the crowd uttered a collective: "Aaaaaaahhhhhhh."
But Oldham barely paused. He picked himself straight back up and, to an enormous cheer, got back on the horse - sorry, high bar - to resume his routine of spinning, releasing and catching, and doing so with conviction and no little courage. When he landed solidly, the noise was deafening.
And yet, impossible though it seemed, it was ratcheted up even further for Kristian Thomas, who followed him. A tall, burly figure, the bar juddered and pulled as he spun around it, and the arena seemed to shake as he landed, with barely a twitch.
Only the floor routine was to come, and each of the three British gymnasts - to adopt once more the official terminology - 'nailed' it.
Smith said they owed their success to the fact that they had been able to relax and enjoy it. "You could see me on the pommel horse, I was free, joking, having a laugh," he said. "We had fun, but we don't have the pressure or expectation of Russia or America."
Not on Monday they didn't. But that might change now.