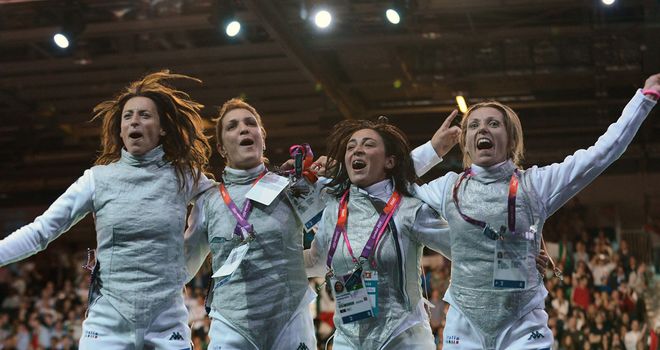 The four Italians celebrate a famous win
Italy's 'dream team' added team gold to the three individual medals they won on Saturday in the women's foil.
Valentina Vezzali, Elisa Di Francisca - now a double gold medal-winner in London - and new world number one Arianna Errigo were in unstoppable form all day and took the title with a 45-31 victory over Russia.
Revenge proved sweet for the Italians. The Russians were the defending champions, having defeated Italy by a single point - 22-21 - in the semi-finals in Beijing.
They even felt comfortable enough to bring on substitute Ilaria Salvatori for one bout near the end so she too could receive a gold.
She lost it 9-5, but it did not matter - their only other defeat in 27 three-minute contests during the entire competition was Vezzali's in the very last head-to-head.
Bronze went to South Korea after they got the better of France 45-32, while hosts Great Britain finished eighth, beating Egypt, but then losing to Italy, Poland and Japan.
Italy opened with a 42-14 demolition of the 13th-ranked British, finishing the contest while the other three quarter-finals were only just passing the halfway stage.
They did not lose any of the nine three-minute bouts in that and the same was true of their 45-22 victory against fourth seeds France.
Vezzali, who intends to be still competing in Rio aged 42, actually fell 1-0 down at the start of the final, but that was as good as it got for the Russian trio of Inna Deriglazova, Larisa Korobeynikova and Aida Shanaeva.
Britain's Anna Bentley said of facing the Italians: "It's like trying to beat Barcelona and there's three of them, not one. There's not a weak link and they don't make mistakes.
"They're super-experienced, come out really confident and are quite arrogant on the piste - maybe we need to learn a bit more of that. This is a massive learning curve."