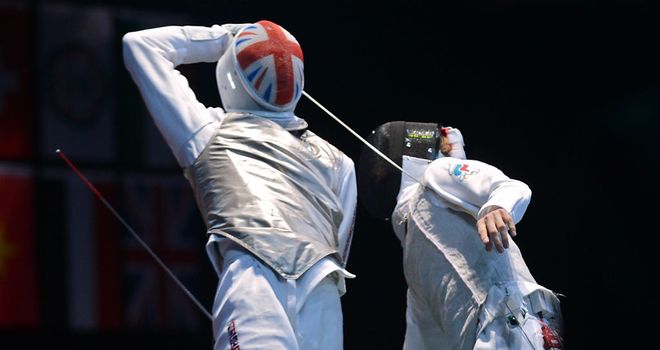 Richard Kruse (L): Was well beaten by Artur Akhmatkhuzin (R) on Tuesday morning
British fencing had its biggest disappointment yet with a complete blow-out in the men's foil at the ExCeL on Tuesday morning.
Richard Kruse was seen as a real medal hope after reaching the quarter-finals eight years ago and then taking bronze in the recent European Championships, but he was annihilated 15-5 by lower-ranked Russian Artur Akhmatkhuzin in his opening fight.
That followed a 15-8 defeat for Husayn Rosowky to Tunisian Mohamed Samandi - he needed treatment for a hamstring injury midway through the contest - and fellow 21-year-old James Davis could not repeat his April victory over Germany's four-time world champion Peter Joppich.
Davis, who has risen around 100 places on the world rankings this year, went down 15-10.
After four days of competition no Briton has reached the last 16 of any event.
There are five more days to come, but it will be a shock if women's sabre fighters Louise Bond-Williams and Sophie Williams change that on Wednesday and in the men's and women's team foil favourites Italy lie in wait if they can first overcome Egypt.
Kruse, 29 on Monday, spoke afterwards of probably giving the sport only one more year, although he later said he would not totally rule out a fourth Olympics in Rio in 2016.
"I think we are nearing the end," said the Londoner. "Fencing has been very good to me, but I can't fence like I was 21."
Gold for Sheng
China's world number nine Lei Sheng went on to take men's foil gold, coming from 15-13 down to beat eighth-ranked Egyptian Alaaeldin Abouelkassem 15-13 in the final.
Abouelkassem, 21, became the first African to win an Olympic fencing medal, while bronze went to South Korean Choi Byungchul with a nail-biting 15-14 victory over Italy's Andrea Baldini.
"I don't really believe it," said Abouelkassem, who beat beating world champions past and present in German Peter Joppich and Italian Andrea Cassara - the reigning world number one - on the way to the final.
"In my country they will be really happy - they must be so proud of me.
"They won't believe it, but also throughout Africa and the Arabic countries they are for sure so happy for me because I'm the first one to reach such a goal in our history. It's incredible.
"It was a very stressful match fighting for a medal - it was the first time I had fought him and I didn't know his style."