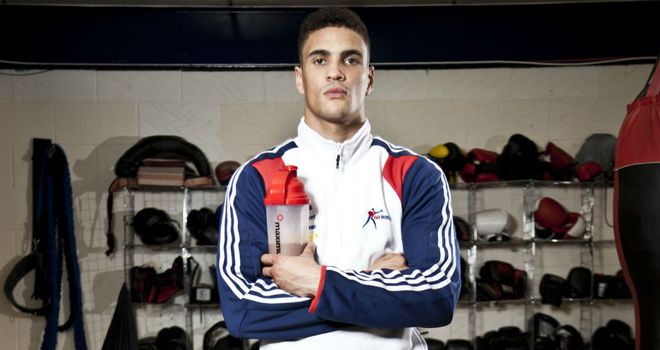 Anthony Ogogo: Will not rush the decision over whether or not to turn pro
Olympic bronze medallist Anthony Ogogo admits he is yet to decide over his future plans.
The 23-year-old was one of the stars of the Games as he stunned world champion Ievgen Khytron on his way to a place on the podium in the middleweight division.
And like all Britain's Olympic medallists, Ogogo now finds himself at a career crossroads - with the lure of the professional ranks up against the desire to 'upgrade' his medal in Rio in 2016.
However Ogogo, from Lowestoft, is refusing to rush making a decision despite attracting interest from professional promoters.
"I honestly haven't thought of turning pro yet," Ogogo told Sky Sports. "It has just been so busy since the Games.
What makes him Ogogo?
"I haven't spoken to (Team GB's boxing performance director) Rob McCracken yet as he gave us some time off after the Games to chill out.
Exciting
"I won't make any decision until I have spoken to everyone involved, like the ABA, Rob and that, to see what people are offering.
"It is an exciting position to be in, though, whether I stay amateur or go pro.
"To me, amateur sport is all about the Olympics. The Commonwealth Games were brilliant and I'm sure they will be special in Scotland but the Olympics were just amazing.
"If I do stay amateur it will be because of the Games in London as I would want to be involved in that again.
"There has been some initial interest about turning pro but I have left that to the people around me to deal with as I'm not ready to talk about it yet."
Ogogo caused one of the shocks of the Games after his last-16 fight with Khytrov had finished level on scores and on countback. The judges were then asked to hit a button to pick the winner, with Ogogo - who had beaten Junior Castillo in his first fight - coming out on top against the No.1 seed.
Things didn't get any easier for Ogogo, though, with a quarter-final win over Stefan Hartel - with the German having sparred with the Brit in the build-up to the Olympics - followed by his defeat to Esquiva Falcao Florentino in the last four.
And Ogogo believes that the tough draw ultimately counted against him in his bid for a gold medal.
"It is a shame that the Khytrov fight wasn't the final," admitted Ogogo. "It took so much out of me that I was physically and mentally drained.
"I was in the mixed zone after beating Khytrov and I was watching on the screens as Hartel fought Darren O'Neill.
Battered
"O'Neill had beaten me at the 2010 Europeans while I had sparred with Hartel six weeks before the Olympics and he had battered me so I knew I had another tough fight coming.
"But although I was drained I was up for it and I ended up beating Hartel comfortably.
"I'd had two physical fights - Hartel was a big tough guy - so the semi-final was perhaps a step too far.
"Both Khytrov and Hartel had beaten Florentino in the past but those previous fights, including the one against Castillo, took it out of me. It certainly was a hard-fought bronze."
Olympic bronze medallist Anthony Ogogo is powered by Maximuscle, the UK's leading sports nutrition brand. To find out more about the partnership visit www.maximuscle.com