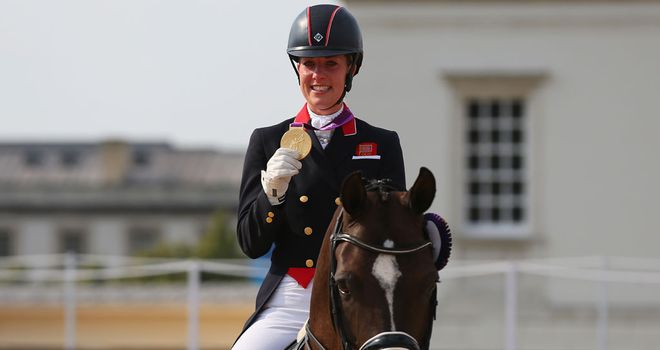 Charlotte Dujardin: Olympic champion on her wonder-horse Valegro
After an incredible display of equestrian class at Greenwich Park, the Olympic competition has shone a new light on the sport.
The historic performances in London have set the fence high for the British team as they look to build towards Rio in four years' time.
Will Connell, Team GB's equestrian leader, has dismissed any notion of complacency creeping in following a golden Olympic Games for his entourage.
At London 2012, the British riders topped the medal table with three golds, one silver and a bronze.
"We shouldn't think we have the right to call ourselves the best equestrian nation in the world. "
Will Connell Quotes of the week
It was comfortably British equestrian's highest medal haul at one Olympics, with the showjumping team, dressage team and dressage star Charlotte Dujardin all now Olympic champions.
Yet, despite the closing ceremony having only just taken place, the road to Rio de Janeiro in 2016 is already looming into sight.
Pride
Connell said: "London has been a seven-year journey, and I am immensely proud of what the riders, horses and all the team staff have achieved. I hope the sport is proud, too.
"I hope the sport can grab the opportunity this is going to present because, as we know, life moves at a rapid rate, and in a few weeks' time this will be history.
"When we did the funding for London back in 2006 and 2008, the initial stretch target was actually five medals. If everything went according to plan, that was the number it was felt we could win.
"Five was always a possibility, but three golds? I think it is the colour of the medals that is so satisfying.
"In each of the team competitions they've had to fight all the way to the finishing line, and the way the teams pulled together I thought was excellent."
However, he remained realistic as he added: "We topped the medal table, but let's not get away from the fact that the Germans are incredibly strong, and the results if we ran these Games in 12 months' time could be very different.
"We shouldn't think we have the right to call ourselves the best equestrian nation in the world.
"We had the best Games, but that doesn't cover up the fact there are areas where we must improve."
Encouraged
A huge part of British success in London was down to the loyal support of owners, people like Gary and Beverley Widdowson, who own show-jumper Nick Skelton's brilliant stallion Big Star and Charlotte Dujardin's dressage wonder-horse Valegro's owners, Carl Hester and Roly Luard.
Charlotte Dujardin: Says it's a surreal feeling having won two gold medals at her home Olympics
It is now key to the sport moving forward that existing and potential new owners are encouraged and supported.
Connell added: "We've had great support from the owners.
"The likes of Valegro and Big Star, they are once-in-a-lifetime horses, and we will sit down with all the owners of all the horses and make a plan with them.
"For sure, some horses may or may not be sold, and you can't blame people for that.
"I can put my hand on heart now and say we have the riders to deliver in Rio, there is no doubt about that, and we have the system to back up the riders.
"We are developing a nucleus around which we can build a showjumping team for the next 20 or 30 years. With Scott Brash and Ben Maher, that's great, and there are other riders out there coming through.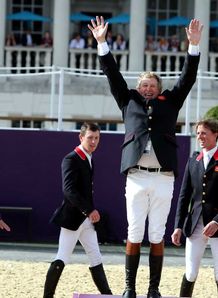 Nick Skelton: Celebrates his team's showjumping gold medal
"The key focus for us after the Paralympics will be getting the Rio plan in."
Humbling
Connell also had unreserved praise for dressage team gold medallist Hester, who apart from achieving that considerable feat also coached Dujardin to double gold.
He said: "There is no doubt in my mind that Carl has got to be the FEI (Federation Equestre International) athlete of the year.
"Not only is he a gold medallist himself, he has produced a gold medallist in Charlotte.
"What is so humbling is that he is absolutely thrilled for her. It hasn't even entered his psyche that she beat him.
"His dedication to Charlotte and the work he has done is just fantastic."
This kind-hearted spirit and commitment to sport epitomizes just what the Olympic Games should be about. The British equestrian team performed marvels at London 2012 and with the right backing and support, they will only get stronger in time for more jumping, riding and dancing, by the time Rio comes around.