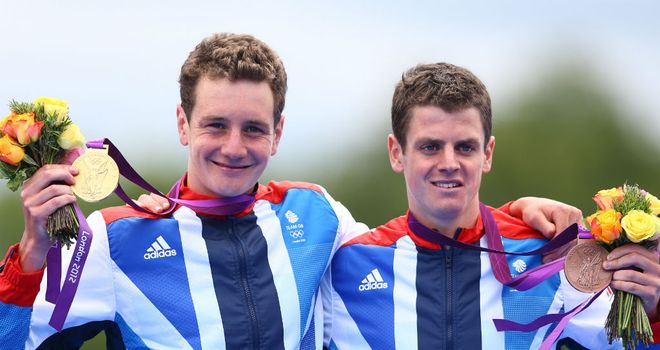 The Brownlee brothers: Their family connection made their Olympic achievements even sweeter
Alistair Brownlee. Olympic champion. Jonathan Brownlee. Olympic bronze medallist.
Teammates. Friends. Brothers.
Standing on the podium they looked like small children whose Christmases had all come at once. In reality, they are real men with extraordinary power, talent and determination.
Having had the pleasure to interview the two brothers back in 2010, their development within the triathlon field has been simply stunning.
They were predominantly young students two years ago. Students who liked to swim, cycle and run a fair bit.
Now they are Olympic medallists, and a true inspiration to the British public.
Their gruelling training schedules had to be completed on top of degrees at the University of Leeds - certainly no mean feat when you dissect the number of hours this entails.
At the Olympic Games, a triathlon consists of a 1.5 kilometre swim, a 40km bike ride and, to top it off, a 10km run.
Proof enough that triathlon is not just a sport. It is a psychological battle with your own body; pushing yourself to the absolute limit.
Memories
In the beautiful setting of Hyde Park, the course danced past the Houses of Parliament and Buckingham Palace to name just two of the many landmarks which greeted the athletes on their way to the finish line.
With the vibrant support of home fans, and with sheer and utter willpower, the Brownlee brothers pushed and pushed. It should also be noted here that Stuart Hayes, the domestique employed to help the family duo reach the podium, did his part to make the country proud.
He too pushed his body through the horrific pain which is necessary in such a sport, ending the race in 37th spot. Not once did he complain of his role. He did what he was taken to the Games for and he was as proud of that as any medalist.
Back with the Brownlee duo and, despite a 15 second penalty for Jonny for getting on his bike too early, they pushed themselves over the finish line to thunderous applause from everyone across Britain.
A brotherly embrace followed; an acknowledgement between the two of congratulations and relief - they have done it. They both made the podium at the London 2012 Olympic Games. And they did it together.
Support
A strong contingent of fans, alumni and staff from the University of Leeds were amongst the loudest supporters on the day, as they told Sky Sports: "Everywhere you watch these Games has just been brilliant. The crowds get behind all the athletes, regardless of whether they are British or not."
And there it is. One of the overriding memories of the Games thus far. The support has been phenomenal and, with two British medal hopes for this London triathlon, it was never going to be any different.
Canadian fan, Shannon Warren, was also full of praise for the British spirit and support, saying: "I'm liking the atmosphere, some people have clearly been camping out since early in the morning; there are lots of parents with their children.
"The people here have been so friendly... there's always people coming over to help you."
Pride
Another vital point to note - something which was noticeable as soon as you could find a spot to take a breath in Hyde Park - was the vast amount of families that had come to wave their flags and in the end, sing the anthem.
Families, that is, that most probably struggled to find any tickets for the Olympic venues, or simply could not afford the ones which were available.
The triathlon provided them with the perfect party atmosphere, where they enjoyed their picnics and could really show their pride for Team GB.
Heart
Having been at the Olympic Park during the first week of these Games and now having witnessed an open-event in a different location of London, one thing shines through.
Regardless of where it is, whether rain decides to show its face, or whether there is any British success, these Games are one of a kind and most people will never see anything like it again.
The crowds at each and every venue, lining the streets or finding a tiny spare spot of grass to perch in a bid to get a view of the action, have been simply tremendous.
The triathlon would have been a success for organisers regardless of the outcome; yet the Brownlee brothers ensured that every single person in that crowd left with a bulging heart and pride pouring down their face.