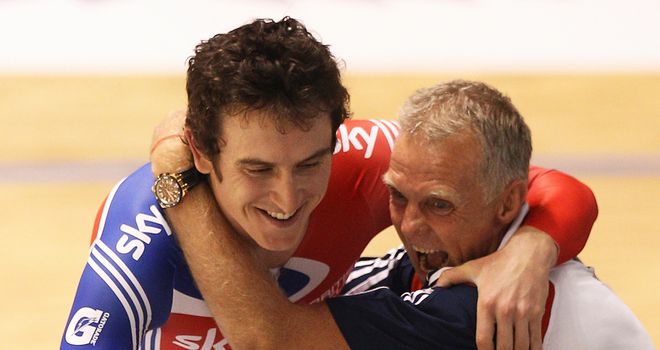 Shane Sutton congratulates Geraint Thomas
It was Saturday lunchtime in a cafe in the Westfield shopping centre and Shane Sutton, the British cycling team's head coach, was reflecting on an achievement that he described as being "as big as Usain Bolt's 100m in Beijing."
Sutton was talking - enthusing would be a better word - about the previous evening's team pursuit, the Great Britain quartet's dismantling of their Australian rivals and lowering of their own world record.
With respect to Victoria Pendleton, the gold medallist in the keirin, it represented the climax to the second day in the velodrome, with the crowd's cheers cascading in deafening waves around the arena, keeping pace with the 40mph quartet for the full 3 minutes, 51.659 seconds.
For two of the team, Peter Kennaugh and Geraint Thomas, the decision to dedicate 2012 to the track and the team pursuit was, if not controversial, then certainly questionable. Both are members of Team Sky, with whom Thomas has already made a name for himself on the road, while Kennaugh is expected to over the coming seasons.
Going for Olympic gold meant putting their road careers on hold. It was a gamble, which you could now argue has paid off quite spectacularly, though there still might be those who feel that Thomas missed out by not riding alongside Bradley Wiggins in this year's Tour de France, and that Kennaugh has missed a valuable year of development.
Kennaugh, who is 23 and yet another product of the Isle of Man hothouse of cycling talent, will now turn his attention to the road with his usual gusto. Kennaugh spoke on Friday evening, after the final, within metres of the podium, where Pendleton was being awarded her gold medal, and the crowd were once again creating bedlam. Kennaugh was undeterred; as the noise grew louder, so did he, until he was shouting.
"We saw their heads were down yesterday after their ride," he said of the Australians. "And Jack Bobridge is a perky lad, you know? You have a bit of banter with him normally, but he wasn't saying much."
So did he feel they were beaten even before they came out to the track for the final? "Yeah," said Kennaugh.
Conquered
He watched Wiggins' victory in the Tour, he said, and couldn't help imagining future Tours, which he hopes to be riding. "That's the exciting thing now. I've done the track thing now, I've finally conquered it.
"Finally I can put it behind me and I'm so excited for next year, to see what I've got in the Grand Tours and the Ardennes Classics. They'll be my focus for the next two years, and I want to get results for myself, but mainly I want to learn."
Sutton said on Saturday that he considers Kennaugh a potential Tour winner. Others have said it before, usually to snorts of derision. Already, however, Wiggins' success may be helping to change attitudes; it doesn't seem so far-fetched any more to imagine a young British cyclist aiming to win the Tour.
"Watching the Tour gave me so much enthusiasm," said Kennaugh, who doesn't usually seem short of enthusiasm. "Some people finish the Olympics and say they want a blow out. I do want a blow out, and a few drinks to celebrate, but I also can't wait to get back into training."
With Kennaugh and Thomas set to bow out of team pursuiting, it leaves the British squad at a crossroads. "I don't know where the team pursuit is going to go from here," said Ed Clancy, a mainstay in Beijing and London. "Bradley and Cav [Mark Cavendish] might come back for Rio, you never know, but it's a bit unknown at the moment."
In Beijing, where they also broke the world record, Thomas had said to Clancy at the finish that he didn't feel it had been the perfect ride. He thought they could have got more out and gone faster.
Was London the perfect ride? "Hmmm. I don't know," said Clancy. "Geraint had a dose of food poisoning about a week ago, and he was in pretty rough form. If he was on his 'A' game... he pulled it off on the night, but he's one of our big guns and if he hadn't had food poisoning he'd have been better and we'd have gone quicker."
The perfect ride might have to wait for Rio.