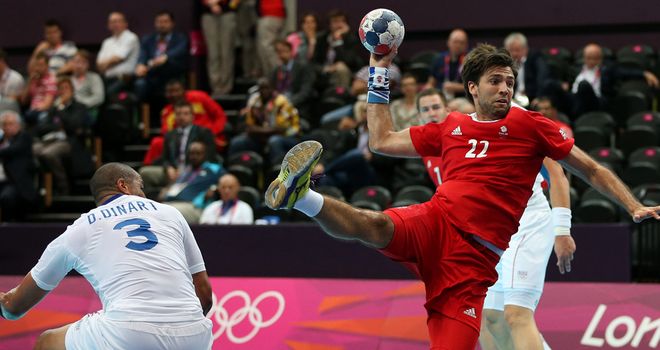 Robin Garnham in action for Team GB
The Copper Box is one of the smaller venues in the Olympic Park, and it is exactly what its name suggests. A copper box. And, on Sunday evening, a compact cauldron, full to the brim with 5,000 people and fizzing at the prospect of a handball match pitting the novices of Great Britain against the world and Olympic champions of France.
"Are we any good?" I asked my neighbour.
"Complete no-hopers," he replied.
That didn't prevent Ciaran Williams, the British player, from thumping his chest Braveheart-style as he sprinted into the arena, nor did it stop the home crowd from giving him and his teammates a rousing welcome.
I detected a hint of irony in the reception, though there was great excitement, too, especially for those who love a bit of mystery. While France are five-time world champions, Britain didn't even have a handball team until recently, and the men's and women's teams owe their very existence to these games, and the pledge made by the BOA to have home participation in every event.
To achieve that, the all but dormant British handball federation was given an infusion of lottery funding and told to find some players. In 2006 they placed an advert, calling for tall, athletic people. Over 2,500 responded, with 150 selected for trials in Nottingham. Some then gave up jobs and studies as initial squads were picked and packed off to the Aarhus Handball Academy in Denmark, where the game is massive.
"I first played the game four years ago. I'd been playing for two months when France were winning in Beijing. It's pretty much the same team; they're a once-in-a-generation team."
Mark Hawkins Quotes of the week
"This could be a record defeat," warned my neighbour as the match began to a cacophony of cheering, whistling and "GB-GB" chanting. It was hugely theatrical, though the script was that of a Hollywood movie, probably starring Ben Stiller.
The siege began immediately: France were on the attack in the first seconds, but the final shot went high and wide. The crowd behind the goal ducked as the ball - smaller and softer than a football - flew in their direction. They needn't have worried: the protective netting saved them, but their reaction might have betrayed that it was their first handball match. They weren't the only ones.
Up the other end went the red-clad British team, sweeping forward with Williams at the heart of the action, as he would be throughout the evening, and Steven Larsson shooting to hit the post. "Ooooooohhhhhh," said the crowd, as though to acknowledge that the chance to take the lead against the mighty France had gone.
There was 1.17 on the clock. But 33 seconds later, Larsson made the French net bulge, scoring to put Britain ahead and almost blow the lid off the Copper Box. "Easy, easy," chanted the crowd -- or maybe it was "GB, GB" -- as France hit back, going to the other end and equalising. Oh well. The dream had remained alive for 18 seconds.
Then Britain equalised, and then went 2-1 ahead -- it really was starting to resemble a Ben Stiller movie. But after 10 minutes France had daylight, leading 6-2.
Their star player is Nikola Karabatic, Serbian-born, 6ft 5ins tall and almost as broad. This swarthy, bearded giant was a marauding, physical presence on the left side of the court, though too physical at one point in the first half as he battered through a couple of opponents (who tended to come off worse than him) and found himself yellow-carded. While sin-binned he sat brooding on the bench, with a towel draped around his shoulders, like a boxer preparing for the next round.
Olympic 'How To' Guide - Handball
But Britain had its own star: Larsson, who chucked in four goals and kept the scoreline respectable, at one point pulling it back to 9-6. His name sounds suspiciously Scandinavian, though Larsson was born in Scarborough. Yet his father is Swedish and the family moved to Sweden when he was 10. Which gives him one advantage over most of his teammates: he began playing handball when he was 14, rather than after seeing an advert in the local paper.
He had the option to represent Sweden or Norway, but chose Britain. He was asked why after the match. "Because I'm British," he said. "And I felt incredibly proud tonight, because the support was amazing. Maybe 60% of them had never seen handball before but they cheered us all the way."
That 9-6 scoreline was as close as Britain would get to causing the upset of all upsets. Yet, even in defeat, it was a victory, of sorts, as another of their players, Mark Hawkins, reflected.
"We've been incredibly up against it," he said. "Two years ago we had our funding cut and eight or nine of us were in Denmark painting toilets, cutting down trees, and maintaining the grounds just to be able to keep playing handball. But every moment of that was worth it for tonight."
That Olympic record score, incidentally, is 44-10. It looked on the cards at one point, but the home team dug in, the support never flagged, and in the end it was 44-15.
Hawkins put that in perspective. "I first played the game four years ago. I'd been playing for two months when these guys [France] were winning in Beijing. It's pretty much the same team; they're a once-in-a-generation team.
"But I think we proved that we deserve to be here," he continued. "The success of this team might not be at this Olympics but the caption's everywhere, 'Inspire a generation.' If we can inspire a generation of British handball players then in 10, 15 years we can qualify by right and maybe be up there challenging for medals. It's a distinct possibility."