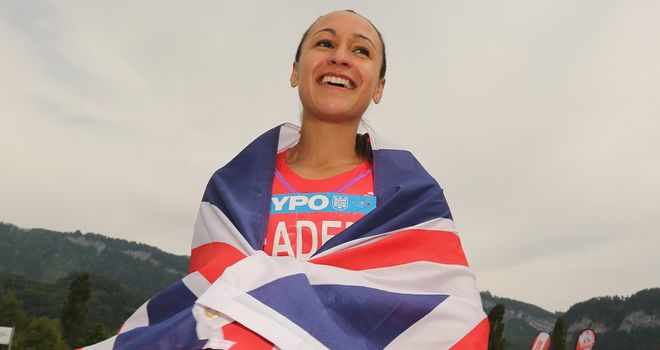 Kelly Sotherton told Sky Sports News that Jessica Ennis is in good shape to win heptathlon gold at the London Olympics.
"She has nothing to worry about. She can just go and enjoy herself and think about that gold medal."
Kelly Sotherton Quotes of the week
Ennis, who missed the 2008 Games in Beijing due to stress fractures in her foot, broke Denise Lewis' British heptathlon record in Gotzis, Austria in May.
The Sheffield athlete attained personal bests in the 200m and the javelin, as well as equalling her long jump record.
And former heptathlete Sotherton, who announced her retirement from the sport this year, think Ennis will be the woman to beat this summer.
"I don't think she could have prepared any better," Sotherton said of Ennis, who has already won World and European heptathlon gold medals.
"Coming second in the World Indoor Championships [in Istanbul in March] might be a good thing because she came out and had a great score in Götzis, broke the British record and everyone is chasing her.
"She has nothing to worry about. She can just go and enjoy herself and think about that gold medal - but there are other contenders.
"There is Tatyana Chernova, the current world champion, the Olympic champion, Nataliya Dobrynska and one name that nobody mentions is Hyleas Fountain, the silver medallist from Beijing.
"She is just as talented over the hurdles, the high jump, the 200m, the long jump and the javelin as Jess but she has never quite put it together.
"She is another name in the frame that could spoil Jess' party, but Jess is doing everything right to win the gold medal."
Special
Ennis will be joined in the Olympic heptathlon field by fellow Brit Katarina Johnson-Thompson, who achieved the necessary 'A' qualifying standard of 6150 points during a recent event in the Czech Republic.
The 19-year-old also broke Ennis' UK junior record last month and Sotherton has tipped the Liverpudlian athlete for a bright future.
"She has been coming up slowly for the last couple of years but I have always rated her," said Sotherton.
"I knew she was going to do something special but there is more to come from her. She is a big girl and I'm sure in a couple of years Jess will be looking over her shoulder.
"She has done remarkably to get where she is and hopefully she can replicate those recent performances in the Olympics.
"A top 16 finish or even the top 12 in the Olympics would be an amazing performance from such a young athlete."
To hear Kelly's thoughts on her retirement, her athletics career and the pressures the British Olympians will face in front of a home crowd, hit the video at the top of the screen.