Follow the route of the Olympic Torch as it makes its way around the British Isles with our interactive feature.
The countdown to London 2012 is well and truly on and as the Olympic Torch travels around the UK and Ireland we'll keep you up to date with the latest goings on.
Olympic Torch Route
Follow the route of the Olympic Flame with our Interactive Torch Map
Get involved by sending your Olympic Flame pictures on Twitter to: @SkyOlympics
You can follow the progress of the Torch and find out exactly where and when it will be visiting near you by using our:
The map has the entire 70-day route as well as the schedule for each day, with different map views and a search facility that lets you enter your postcode and find out about the Torch route near you.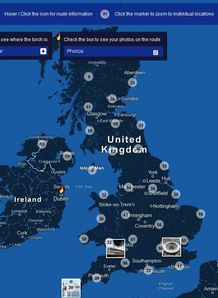 View your photos and follow the Torch around the UK
Your pictures
There is also a picture function on the Map, which you can see by simply ticking the box at the top - and we want to see your pictures from seeing the Olympic Torch or simply any Olympic preparations you're making locally.
Tweet your pictures to @SkyOlympics and we'll display the best ones on our Interactive Torch Map.
Follow our special Twitter account also to keep up to date with all the latest news, events and interviews as the build-up to London 2012 intensifies.
The Olympic Torch will travel around the entire UK and even make the trip to Dublin in Ireland, before ending up in London on July 27 for the opening ceremony.
Click Here to go to our Interactive Torch Map page with full schedule and photo facility.