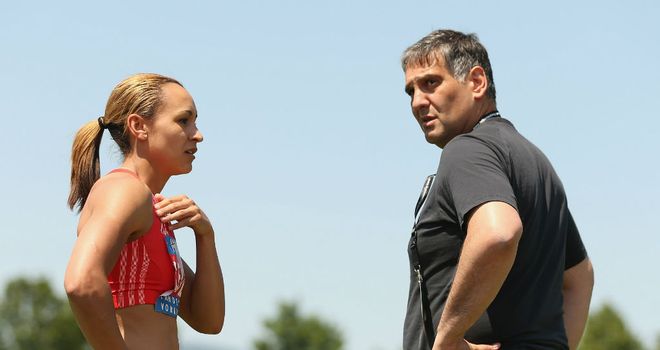 Jessica Ennis will continue to be trained by Toni Minichiello
Jessica Ennis will not part company with Toni Minichiello after he lost his job as an Olympic coach.
Minichiello guided Ennis to heptathlon gold at London 2012, but he was a casualty of UK Athletics' restructuring plan around a single High Performance Institute in Loughborough.
Ennis intends to keep training in her home city of Sheffield, although she could switch to a redeveloped Woodbourn Road Stadium with Don Valley set to be demolished, and Minichiello plans to stay with her.
Minichiello will not be due a full-time UK Athletics salary as he has no other Olympic or world medallists in his training group, but Ennis admits she might help out with his funding.
"We have had a chat and if that is what it comes down to, then of course I will just support him where I can, and we will just carry on.
"There is not going to be any change - a lot of people have said, 'Are you moving to another coach?'
"No, everything is going to stay the same, but we just need to find a way of funding it."
Ennis acknowledged the key role that Minichiello has played in her success and is determined to stand by him through this difficult period.
"I will obviously support Toni as much as I can, and I am there for him, because we are a team, but I do have to let him fight his own battles and get on with it," said Ennis, who has been named as Laureus World Sportswoman of the Year.
"But I do feel that we had such a great year together - it wasn't just me that performed, it was both of us who worked really hard for that performance in London.
"So it is just not a nice position to be in when you have done something so special, and then you find yourself in a really difficult situation after."