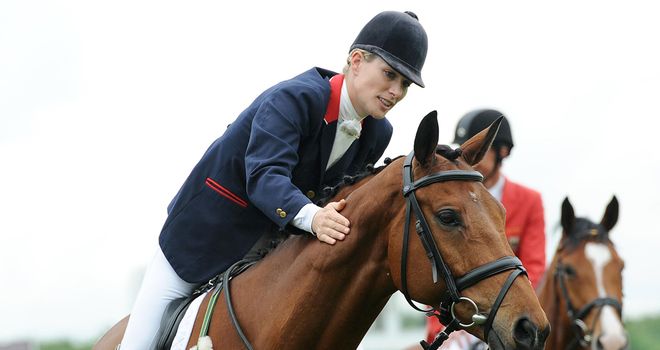 Zara Phillips: Hails her horse High Kingdom
Zara Phillips has paid a glowing tribute to High Kingdom - her London Olympics horse.
Phillips made her name in top-flight eventing with Toytown, winning the 2006 world title in Aachen as the highlight of their impressive partnership.
However, she believes Irish-bred High Kingdom, bought for her by long-time supporter Trevor Hemmings, has undoubted quality.
She said: "He is as good as Toytown, and it's great to have another horse that can run at that level. I have a lot of faith in him.
"When the London bid was announced, he (Hemmings) suggested we go out and find a horse to get here. High Kingdom was that horse.
"The Olympics has always been my goal with him, so it's just amazing to get this opportunity.
"You buy youngsters and it is hard to see their full potential and know how far they will go, so I am pretty grateful that he has kept on showing such improvement.
"I hope he keeps on delivering from now on in as I really think a lot of him."
Relaxed
The Queen's granddaughter has been chosen alongside William Fox-Pitt, Piggy French, Mary King and Tina Cook in the British eventing team for Greenwich Park.
Injuries to Toytown, who was formally retired last year, meant that she was unable to be at the 2004 and 2008 Games.
The 31-year-old added: "High Kingdom is a pretty cool, very relaxed kind of guy.
"He is improving all the time. He's pretty pony-like, a nippy little jumper and easy to manoeuvre, so hopefully it will suit him well in Greenwich."
"The Olympics has always been my goal with him, so it's just amazing to get this opportunity."
Zara Phillips Quotes of the week
Phillips will emulate her mother, the Princess Royal, who competed at the Montreal Games in 1976, while her father Captain Mark Phillips was a team gold medallist at Munich in 1972, winning silver in Seoul 16 years later.
World number one Fox-Pitt will ride Lionheart, King will be aboard Imperial Cavalier and Cook with Miners Frolic- her 2008 double bronze-medal winning horse.
French, who like Phillips is set for her Olympic debut, will either ride Jakata or DHI Topper, winner of last summer's London Test event.
Selection
Yet while Phillips has gained selection, there is disappointment for the likes of Nicola Wilson, who has helped Britain win world and European team gold medals in the last three years on her brilliant cross-country exponent Opposition Buzz, as well as Sarah Cohen and Lucy Wiegersma.
The reserve list has yet to be announced, but it is thought the group includes Wilson, Wiegersma and Laura Collett, with King's Kings Temptress also among the back-up contingent.
For 51-year-old King, it will be her sixth successive Olympics, emulating the feat of British javelin thrower Tessa Sanderson, with Fox-Pitt competing in his fourth and Cook her second.
Cook saw Miners Frolic suffer a life-threatening illness in 2011 but she has gradually nurtured him back into competition this season, and they jumped a cross-country clear inside the time at Bramham.
Cook, 41, said: "After the horse's illness last year this is a dream come true.
"With his past form, Miners Frolic has proved he can do it, but he nearly died of colitis 12 months ago, so to come back to this level shows he's a real fighter."