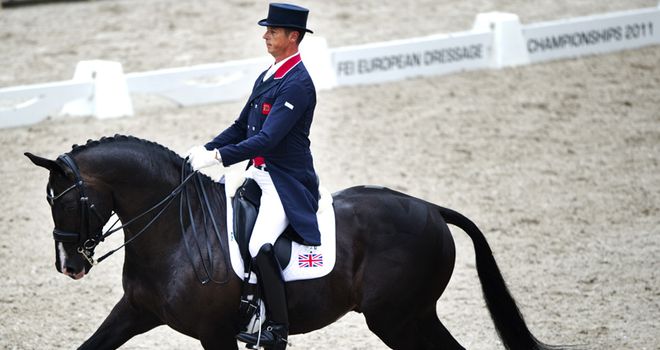 Carl Hester: Looking forward to London 2012
Great Britain's dressage riders are on course to create Olympic history in London later this year - and team talisman Carl Hester cannot wait.
Britain has never won an Olympic dressage medal - team or individual - but current form not only points to podium places, it also suggests a golden summer at Greenwich Park.
And for 44-year-old Hester, it is an opportunity to be grasped with both hands.Three of the prospective British Olympic team - Hester, Laura Bechtolsheimer and Charlotte Dujardin - are currently ranked among the world's top five.
They also delivered the goods in Rotterdam, alongside Emile Faurie, last August by winning European team gold, while Hester and his brilliant stallion Uthopia collected two individual silvers.
"There will be pressure and expectation, but we want it and we are not afraid of it," said Hester. "Laura has done it long enough, I've been doing it long enough and Charlotte will deal with the pressure.
Opportunity
"It's like 'come on, this is too good an opportunity to be missed'. It's good pressure to have on us. Rotterdam was huge for us - I couldn't believe it.
"It is so easy in hindsight for people to say we were due it and everyone was saying we were going to get it, but actually getting it was another jump forward.
"Bear in mind I have been doing this for more than 20 years. I was so used to packing up and going home, not being depressed about not being in the prize-giving, because that is what I was used to.
"To see the winners' board that was on display during the week in Rotterdam, it contained just two names - the Netherlands and Germany.
"To know that Great Britain has slotted in there now is incredible. Germany still haven't quite got the three 80% horses that we've got, but winning medals, like last year, you don't think about it until afterwards when you get a moment to sit down and reflect."
Dujardin, 25, only took part in her first dressage grand prix 14 months ago following a successful pony showing career highlighted by four Horse of the Year Show victories and three at Hickstead.
Development
But her career has taken off since she started being trained by Hester in 2007 at his yard just outside Newent. Her development has been so rapid that she is now only three places below him in the world rankings and also has serious Olympic medal prospects on Valegro, a horse that Hester co-owns.
"Rotterdam was an amazing experience. We had a great team and great support," she said.
"To me, I kind of don't look at any show differently. I think I have got to do the same things as I do at home, that is what I try to focus on.
"I don't wind myself up to think of it differently, so I don't ever put myself in a situation to get stressed about it. I am not very good when it doesn't go so well, though!"
Rotterdam apart, Dujardin's other outstanding highlight of 2011 came when she won the prestigious Olympia Grand Prix in London, and Hester believes she is a rare talent.
"I was judging at a world-class viewing day, when we were trying to pick potential horses and riders for future teams," he said.
"We watched Charlotte ride this horse, then I sat on it and realised immediately it was such a well-trained horse that would go to grand prix level. I remember she then scored 74 per cent at her first grand prix, and I thought 'wow'."