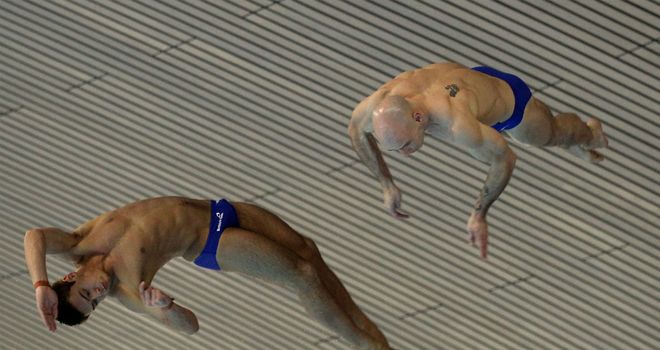 Tom Daley (left) and Peter Waterfield in action at the Aquatics Centre
Tom Daley failed to claim the medal to silence his critics but his Olympic ambitions look on track after a vastly-improved showing alongside Peter Waterfield in the platform synchro at the FINA World Cup on Thursday evening.
The duo had been third with two dives to go but, after missing their most difficult penultimate dive, fell down the standings to finish seventh at the Olympic Aquatics Centre.
It still represented a vast improvement on their morning's showing, when they scraped through qualification, while their points tally of 419.97 bettered the score they returned at last July's World Championships.
That was the duo's last competition together and, after a limited preparation due to injury, tonight's result was a welcome boost to their Olympic ambitions.
Injury to both divers has restricted them to less than two weeks training together this year, and while rustiness was evident on Thursday morning, there was little sign of it later in the day as they were roared on by a 3,000 strong crowd.
They scored 10s on two separate dives before making their first mistake on the forward four-and-a-half somersault, which ultimately cost them a medal in a final of high quality.
"It was just one dive we missed - that was the difference between getting a medal and not," Daley said.
"The front four-and-a-half is one of those dives that is crucial in the competition. If you nail it you get launched up the scoreboard. If you don't you drop down.
"We have to make sure that's a consistent one."
The missed dive also denied Daley the chance to prove he was fully committed to his Olympic dream after criticism from British Swimming performance director Alexei Evangulov.
The Russian warned that Daley's media commitments were jeopardising his Olympic hopes while he also claimed his main Chinese rivals "trained three times harder".
"I'm doing as much (training) as I can. I'm pushing myself as hard as I can go without my body breaking."
Tom Daley Quotes of the week
It is an accusation Daley, who revealed he has since met with Evangulov to discuss his comments, denied.
"The thing with Alexei was he had an interview and that was it," the 17-year-old said. "He knows the amount of training I am doing and that I'm doing the right amount of training.
"I'm doing as much as I can. I'm pushing myself as hard as I can go without my body breaking.
"Diving is something I love to do. I do it because it's fun and I want to do well in it. That's the only reason I'm in the sport."
Waterfield, who returned from two months out with back and side injuries, defended his teenage partner and bristled at suggestions his media commitments were ruining their Olympic chances.
"We didn't miss a dive because Tom has being doing too much media," he said.
"We missed a dive because we've had setbacks with injuries at the beginning of the year. I think it's you guys making more about it in the media.
"You lot keep bringing it up. We've had a few setbacks with injuries, not Tom doing too much media."
China continue domination
Predictably, China claimed gold with Cao Yuan and Zhang Yanquan ensuring they remained on course to scoop all the gold medals at this week's meet.
While both Daley and Waterfield admitted beating them was a tall order, they pointed to their World Series success in Sheffield last year - when they beat the Chinese in just their second competition together - as reason to believe they are capable of an Olympic medal in this same pool in the summer.
"It's an on-the-day sport. The Chinese just do really well on most days," Daley said.
"At the moment in the 10m synchro it is China's to throw away.
"I know myself and Pete are going to work hard going into the upcoming World Series and European Championships before the Olympics to get up there."
Waterfield added: "We'll go back home now and work as hard as possible, put the hours in to make sure we're at our best."
Earlier, Becky Gallantree moved a step closer to a second Olympics after finishing ninth in the preliminary round of the women's 3m springboard.
That ensured the 27-year-old earned Great Britain a place at the Olympics while also sending her through to Friday's semi-final.
"I'm very pleased to get an Olympic place," said Gallantree, who must now book her own Olympic place at June's British Championships.
"I was a little bit disappointed with my last dive which meant I finished a point off my PB, so I was a little annoyed at the end but other than that I was really chuffed."
Hannah Starling, 16, was unable to secure a second Olympic berth - finishing just a place outside the top-18 finish she needed - although she could rectify that in Sunday's dive-off.