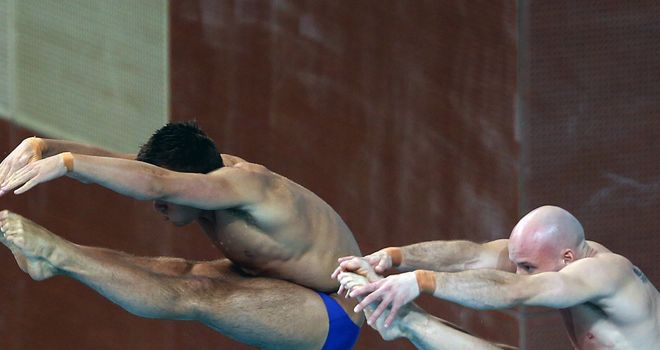 Tom Daley and Peter Waterfield: missed out on a medal
Tom Daley narrowly missed out on a medal alongside platform synchro partner Peter Waterfield at the first leg of the World Series in Dubai.
The duo were edged out of a podium place by just a single point as they finished fourth in a competition that boasted all the major medal contenders for the London Olympics.
Daley has come under fire for his media commitments outside the pool in the past month, with British Diving performance director Alexei Evangulov likening the teenager to former fallen-star tennis player Anna Kournikova.
Friday's performance proved, however, that he has made some significant strides in the training pool with Waterfield since they finished seventh at the World Cup in London last month.
The duo's preparations for that event had been significantly hampered by injury, but an uninterrupted block of training was clearly evident as they produced a solid performance to prove they are genuine medal contenders this summer.
Tonia Couch was a disappointing fourth in the women's 10m platform after qualifying second from her semi-final, the victory going to China's Ruolin Chen.
Harrogate teenager Jack Laugher failed to reach the final in the men's springboard.
The two-day competition finishes tomorrow when Daley will be in action in the platform synchro - the event at which he was crowned world champion as a 15-year-old in 2009.