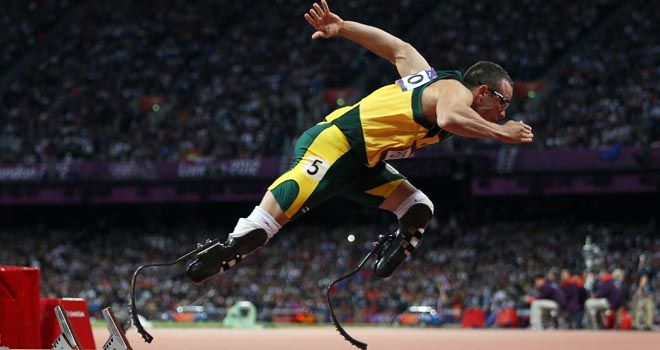 Oscar Pistorius
Oscar Pistorius is one of the most famous Paralympic athletes in recent times and is already the face of the London Games.
The athlete was born without the fibula in each of his legs and had his legs amputated below the knee. He lived a very active life and played a wide range of sports whilst at school.
His main focus was initially water polo and then rugby in secondary school. As well as this, he played tennis, cricket, competed in triathlons and he was an enthusiastic boxer.
However, in June 2003, he shattered his knee playing rugby for Pretoria Boys High School, fearing that his sporting career was over at the age of just 16.
The South African though then took up track running to aid his rehabilitation and has not looked back since.
History
His breakthrough moment came in June, 2004, when he was given his first pair of Össur manufactured Flex-Foot Cheetahs.
Then, only eight months after first stepping onto the track, Pistorius created a storm in the athletics world by winning the T44 200m gold medal at the Athens Paralympic Games, breaking the world record with a time of 21.97s. He also won the bronze medal in the 100m; setting the precedent of things to come.
In Beijing four years ago, he became the first athlete in history to win gold in the 100m, 200m and 400m events in the T43/T44 category. This success came amidst a report claiming that Pistorius' prosthetic limbs gave him an advantage over able-bodied athletes.
Since this, the athlete has only improved and become more focused and is now set to take London by storm as the Paralympic Games begin.