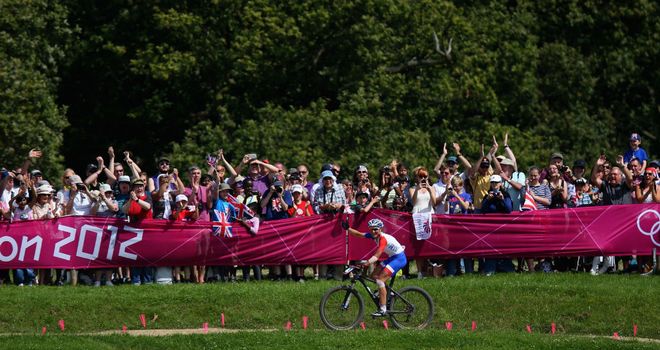 Julie Bresset: Waves before crossing the finish line at Hadleigh Farm
A dominant performance saw Julie Bresset of France win the London 2012 Olympic Games women's cross-country mountain bike at Hadleigh Farm.
World under 23 champion Bresset led from the start and triumphed in one hour, 30 minutes and 52 seconds.
Defending champion Sabine Spitz of Germany was second, one minute and two seconds behind, with Georgia Gould of the United States third, six seconds further adrift.
Great Britain's Annie Last placed eighth, two minutes and 55 seconds behind.
Last made a strong start on the first of six laps of the 4.7-kilometre route, carved into an Essex hillside overlooking the Thames estuary, and was in the front group early on.
Handlebars
The 21-year-old from Bakewell was in good company and was behind only Bresset at the end of the first lap and the Frenchwoman forged on in the second, leading again, with Spitz second and world champion Catharine Pendrel third. Last was fifth, 11 seconds behind.
Gould joined Spitz and Bresset in the front group as the Frenchwoman went through the start-finish line with a lead of four seconds with three laps to go. Last was 34 seconds adrift.
Spitz went over her handlebars with Gould behind her on a steep rocky section known as Deane's Drop as Bresset went further clear.
Bresset appeared unstoppable as she passed through the two-laps to go marker in 1hr 40secs, with Spitz 33secs adrift and Gould trying to stay with the German. Last was 1min 22secs behind in fifth.
With one lap to go Bresset led by 57 seconds and she comfortable held on to claim France's first cycling gold of the Olympics.