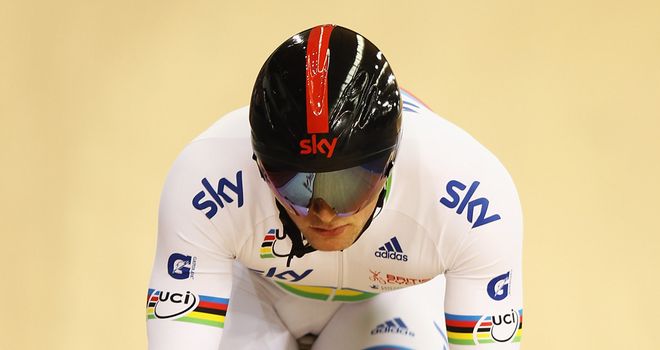 Jason kenny: Full of confidence in Philip Hindes and the men's sprint team
Jason Kenny has backed Great Britain team-mate Philip Hindes to replicate his own success and surprise at the London 2012 Olympic Games.
Kenny won sprint silver, behind Sir Chris Hoy, and team sprint gold in Beijing four years ago after being thrust into the limelight aged 20.
Hindes, 19, made his Track Cycling World Championships debut in April, and will take to the Olympic Velodrome track on Thursday alongside Kenny and Hoy in the three-man, three-lap team sprint.
Specialist starter Hindes was relegated by officials in Melbourne for a takeover infringement as Britain missed out on a medal, but Kenny believes the German-born rider has improved since.
Raring to go
"Phil seems to be going really well now so that's quite exciting and hopefully we can get stuck in and surprise a few people with a good time in qualifying," Kenny said.
"It's good to have someone like that in the team who is really excited. He proved at the worlds that he's more than capable of putting in a really good time so hopefully by the day he'll get us off to a really good start.
"We're really getting together as a team now. We've done a lot of work together so hopefully it's just a case of getting up and doing what we've been doing which is going really quick and seeing what happens."
In a change to Olympic regulations, only one rider or team per nation per event is permitted and Kenny was selected for the individual sprint ahead of defending champion Hoy.
Kenny is confident in his form after honing preparations at Britain's final training camp in Newport.
The 24-year-old from Bolton said: "It was good. Everyone was going quite well.
"I've just been concentrating on going as fast as possible. It's just a case of keep ticking the boxes now, looking after ourselves in the village and hopefully on race day we'll be able to get up and show what we've been doing."