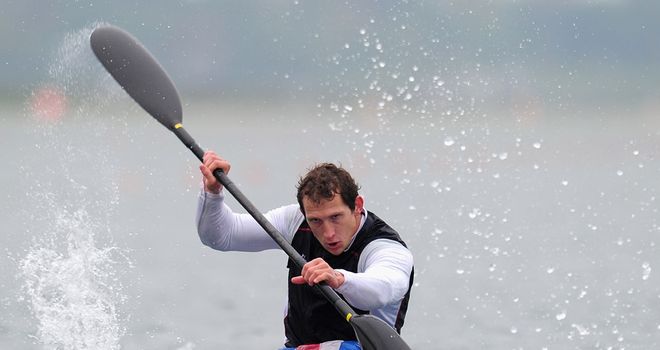 Ed McKeever: Made an impressive start in his heat
Ed McKeever got his K1 200m sprint challenge off to a flying start with victory in his heat and semi-final.
McKeever, dubbed the Usain Bolt of canoeing, won his heat in an Olympic best time of 35.087 seconds at Eton Dorney.
McKeever was away quickly out of the block and never looked back, although Marko Novakovic, who beat the Briton at the European Championships, and Miklos Dudas put a strong challenge late on.
He left the field in his wake in the semi-final as he clocked his second victory, although his time was slightly slower as he finished in 35.619.
McKeever said: "Obviously it's nice to win your semi-final, you get a nice central lane for tomorrow's race and I am really looking forward to it tomorrow.
"I see it's forecast that it's for a headwind tomorrow so that could mean slower times but I have done lots of fitness work over the winter, so hopefully I came out alright.
Training
"Obviously the games kicked off two weeks ago. We have been on a training camp so we are not hanging around waiting and I think it has worked really well."
Liam Heath and Jon Schofield are also through to the final of the K2 200m sprint after they were second in their semi-final.
Richard Jefferies missed out on a place in the C1 200m sprint final, though, after finishing sixth in his semi-final.
The 25-year-old had qualified for the semi-final with a solid display in his heat as he came home in third, however he could not progress further.
In the women's K1 200m sprint, Jess Walker has qualified for the final after a superb display in her semi-final.
Walker, who had recorded a fourth-place finish in her heat, finished in second in 41.734 seconds - just 0.321 behind Natalia Lobova.