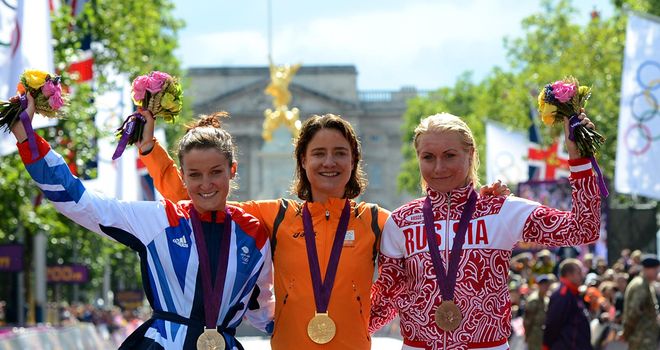 Armitstead (L) on the podium with Vos and Zabelinskaya
Lizzie Armitstead was pleased to have claimed Great Britain's first medal of the 2012 Olympic Games in the women's road race, but was a little rueful after missing out on gold.
Armitstead was beaten to victory at the end of a pulsating 140-kilometre race, which featured two climbs of Surrey's Box Hill, as Holland's Marianne Vos triumphed on The Mall.
With the peloton cast adrift, the 23-year-old from Otley was in line for Britain's first medal of the home Games, but the question remained which colour.
Armitstead positioned herself behind the Dutchwoman entering the finishing straight but Vos was strong enough to hold off the Briton, who had to settle for second. Russia's Olga Zabelinskaya was third.
Armistead earns silver for GB
Armitstead said: "I'm really, really happy. Maybe later I'll start thinking about that gold, but I'm happy with silver at the moment.
"I was thinking about trying to play poker in the final and I sat on with about 3k (kilometres) to go and I thought that was my best chance and it came off.
"In retrospect I should've tried to jump Marianne but she's the fastest and I'm happy enough with silver.
On the first British podium place of London 2012, Armitstead said: "It's something very special and it hasn't sunk in yet."
Vos delivers
Vos has five times finished second at the World Championships, a race she won in 2006, and had a runners-up reputation, but delivered on this occasion.
British Cycling head coach Shane Sutton said: "She came in as team leader and delivered, but let's all take our hats off to Vos.
"It was a brilliant ride. We can't deny her that victory, as much as we wanted to.
"We're over the moon with that."
Team effort
Armitstead's team-mate Nicole Cooke meanwhile, was proud of the effort Team GB had demonstrated, and added: "We did a great ride today - that was really good.
"It was pretty tough out there with the rain and everything but you just get on with it, you just get on with the racing.
"I found it sort of okay on the climb but it was over the top as they really went fast, that was when it was strung out and that was actually very hard, with wet corners and everything.
"We showed today that we can ride as a team and we did an absolutely amazing ride. I think all of us can be very proud."