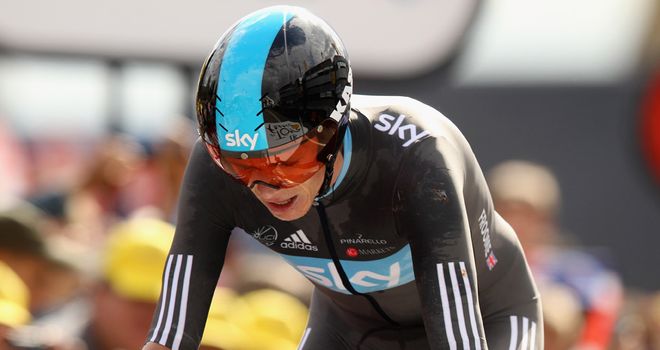 Chris Froome
Chris Froome rightfully deserves his reputation as one of the world's best cyclists.
Last year he rose to prominence with his second-placed finish at the Vuelta a Espana, and followed that up this summer by finishing in second place behind team-mate Bradley Wiggins in the biggest race of them all - the Tour de France.
It was Froome's heroic climbing displays in France that earned him a new legion of fans, and his stunning late attack on the summit of La Planche des Belles Filles on stage seven netted him a stunning stage victory.
Many pundits have speculated that Froome could even have won the Tour himself had he not so loyally stuck to his role as Wiggins's key wingman in the mountains. Certainly, on a few occasions, Froome appeared to be waiting for his leader when he might otherwise have pushed on and further enhanced his own chances of success.
When he is not scaling the most gruelling peaks in the sport, Froome is also a hugely-talented time trial rider and finished second behind Wiggins in both those stages at the Tour.
The 27 year old will be looking to carry that fine form into the men's Olympics time trial event on Wednesday 1 August - where he will fancy his chances of attaining a medal.
Three days before that though, Froome will assume his now-familiar role of 'super-domestique' as he helps Mark Cavendish in his bid become Great Britain's first gold medallist in the men's road race.
All this is a far cry from the streets of Nairobi, Kenya, where Froome was brought up by his mother and British-born father before moving to South Africa in his early teens.
It was in South Africa where he first took up the sport, and even represented Kenya in the 2006 Commonwealth Games before changing to a British licence in 2008.
Froome's first foray into professional cycling had come the season before when he was picked up by the South African-based Konica Minolta squad. It was there that he caught the eye of Robbie Hunter, who helped facilitate his move into the big leagues with Team Barloworld in 2008.
In his first year with them, Froome made his debut appearance at the Tour de France, and a solid Giro d'Italia display the following season helped him seal a move to the newly-formed Team Sky in 2010.
Since then Froome hasn't looked back and his inclusion in the Team GB squad is testament to solid all-round ability he now possesses.