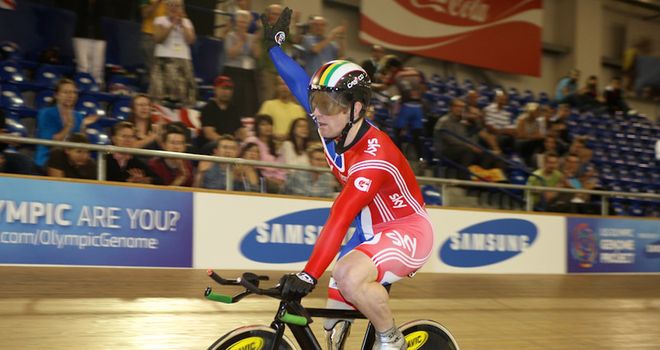 Jody Cundy
At first, it was not cycling that Jody Cundy was interested in. From the age of ten, he began swimming and developed this career over ten years.
The 33-year old began racing for Kings Lynn swimming club and represented Great Britain for the first time in 1994 at the World Swimming Championships. It was here that he took the gold medal in the 100m Butterfly.
At the 2004 Paralympic Games in Athens, he claimed the bronze in the 100m Butterfly and looked to be improving consistently in the pool.
His international medal tally gradually increased, with a total of 23 (14 gold, four silver and five bronze) by the time he decided a change was needed.
It was in 2005 that Cundy's career path altered, after he rode in the Newport velodrome. In the same year, he rode for the first time at the National Championships, breaking the British record for the flying 200.
His success in the new sport continued, epitomised when he was offered a place on the team for the 2006 Paralympic World Cup. He rode in the team sprint alongside Mark Bristow and Darren Kenny, setting a new world record in the process.
This was when it all changed for Cundy, as he gave up professional swimming for good and joined the British Cycling team.
The Moto-GP enthusiast went on to win his first individual gold medal in 2006 at the World Track Championships in Switzerland, breaking the world record in this too.
The Paralympic Games in 2008 highlighted how successful the switch to cycling had been. Cundy won gold medals in both the 1km time trial and team sprint, setting new world records in both.
He is now one of only a handful of athletes that have become Paralympic champion in two different sports.
In 2011, in preparation for the London Olympic Games, his training shifted to higher endurance as he wanted to focus on the 4km pursuit as well as the sprint events.
In March that year, he made an impressive debut in the 4km pursuit at the World Championships, in which he won silver.
So far, 2012 has been a mixed bag of emotions for Cundy. He retained his 1km time trial title at the World Championships but had to settle for bronze in the 4km individual pursuit. All focus is now on his final preparations for the Paralympic Games.