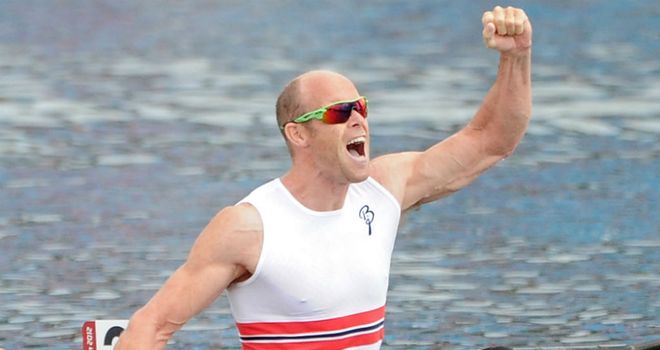 Eirik Veras Larsen: New Olympic champion
Norway's Eirik Veras Larsen won gold today in the kayak sprint as Tim Brabants, defending his Olympic crown, finished eighth.
World champion Adam van Koeverden finished second to claim silver, while Max Hoff from Germany won the bronze.
Brabants, who came in to the Games struggling for full fitness following a serious tendon injury, could never contest the lead at Eton Dorney.
Drawn in lane one nearest the grandstand, the 35-year-old had the support of the home crowd but fell well behind Canada's Van Koeverden as he surged in to an early lead.
But with 250 metres to go in the individual 1000 metre kayak sprint, Larsen edged in to first place to claim gold.
Women's K4
In the women's K4 500m, Jess Walker, Angela Hannah, Rachel Cawthorn and Louisa Sawers finished fifth, behind Hungary, who won gold.
Germany's Sebastian Brendel won gold in the men's 1000m canoe sprint, while David Cal Figueroa from Portugal from Spain finished in second. Canada's Mark Oldershaw claimed the bronze.
In the men's kayak double, Hungary's Rudolf Dombi and Roland Kokeny won gold, Portugal's Fernando Pimenta and Emanuel Silva took the silver and Martin Hollstein and Andreas Ihle from Germany won bronze.
Speaking after the men's K1 1,000m, silver medallist van Koeverden said he had trained with Larsen in the region of 1,000 times over the last 14 years.
He said: "We are 50-50 for wins in those sessions. In those sessions we get off the water and we have said to each other many, many times, 'I don't think anybody in the world could have done what we did today'.
"We are not being cocky, or arrogant or boastful. Today was no exception, we flipped a coin and if it comes out the wrong side you have to deal with it.
"I have said it before that I don't like stacking up my 1,000m silvers on my dresser at home but if I have to lose to somebody then he is a classy guy and I respect him so much."