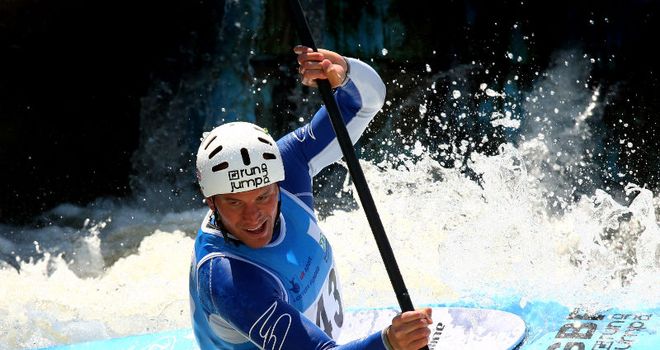 Richard Hounslow: Failed to reach single kayak final
Richard Hounslow failed to make the final of the single kayak as Italy's Daniele Molmenti celebrated his 28th birthday with gold.
Hounslow, 30, from Loughton, Essex, recorded a time of 104.30 seconds, which placed him in 12th and outside the top 10 qualifying places.
Hounslow could only wait at the bottom, looking anxiously at the giant screen, as successive paddlers went quicker, leaving him to slip agonisingly down the leader board.
His failure to reach the final follows that of David Florence in the single canoe on Tuesday.
The 29-year-old world number one blew his chance when he finished 11th in the semi-final after a mistake at gate 16 cost him valuable time.
While the gates have been set specifically for the Games and changed for the finals, both paddlers have had 18 months to use the course, recording something like 3,000 practice runs each in that time.
Gutted
Hounslow said: "I am obviously gutted. I am disappointed that I couldn't put in a performance that I and the home crowd could be proud of.
"It's hard out there and you have to focus all the time. When you were on the start line the noise was just incredible and you try and work off it, you try and feed from it. At the end of the day it's my job and I have got to deal with the pressure and today I didn't.
"I have just got to take full responsibility for it really. I didn't perform today. I haven't really performed to the best of my ability, to what I can perform, this whole competition."
Hounslow has another chance of Olympic glory on Thursday when he joins Florence in the two-man boat.
But the pair did not perform with confidence during Monday's heats and left it all to do on their last run.
They now have to pick themselves up for the semi final. There are 10 crews in the semi-final and only six go through to the final.
Etienne Stott and Tim Baillie are in the other British boat, but if neither shine the team's inquest will be painful.
Birthday joy
In the final Molmenti, the current European champion, who could only manage 10th in Beijing, won in a time of 93.43 seconds, ahead of the Czech Republic's Vavrinec Hradilek in silver and Germany's Hannes Aigner, who claimed bronze.
Molmenti let out a large scream as he crossed the line, flexing his biceps for the cameras on the banks of the Lee Valley white water course.
He was the form kayaker coming into the Games, winning the European championships this year, in 2010 and in 2009. Since Beijing he has also won the world cup title, which he claimed in 2010.